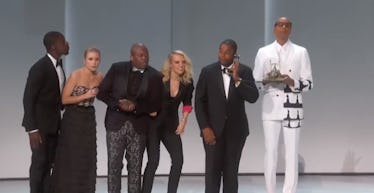 The Emmy Awards Can Just Be Over Now, Because That Was The Best Opening Of All Time
NBC
It's typical to open the Emmy Awards with a song and dance, but these opening numbers full of cringeworthy high notes and not-so-surprising cameos rarely catch people's attention. This year, the ceremony's production team decided to change that stigma with the catchiest opener ever, and these tweets about the 2018 Emmy Awards opener will make you want to relive that musical number ASAP.
Rather than have hosts Michael Che and Colin Jost immediately greet the audience, the Emmy Awards first introduced the duo's Saturday Night Live co-stars and nominees Kate McKinnon and Kenan Thompson. Whether or not you're a fan of Che and Jost's "Weekend Update" segments, you may have been in agreement with a lot of viewers about the randomness of their hosting gig. The appearance of McKinnon and Thompson introduced a super enjoyable air as they addressed this year's Emmy Awards roster having the highest amount of diverse nominees ever. The two joked that Hollywood had "solved" its issues of inclusion. As they launched into a musical number called "We Solved It," some famous friends representing different kinds of minorities joined them. Kristen Bell and Titus Burgess hopped in on the celebration, while Sterling K. Brown, RuPaul, Ricky Martin, and "One of Each" dancers also made cameos.
After the group sent away SNL alum Andy Samberg for being a straight white male, their fun was spoiled by a phone call informing Thompson that, no, Hollywood hasn't totally rectified its lack of diversity. Maybe next year, guys!
We all love a musical number, but plenty of fans on Twitter particularly loved this mixture of the internet's most beloved icons on a national stage. If this group ever wants to host a Netflix variety special, let me know. Also, time to get the Kate McKinnon and Kenan Thompson co-host campaign rolling for the 2019 Emmy Awards.
Of course, every action has multiple reactions when it comes to award shows. Other viewers of the Emmy Awards pointed out that while the opening number praised diversity, the show proceeded to award several white winners in a row. About 45 minutes into the ceremony, a diverse nominee had yet to win his or her category.
The Emmy Awards' attempts to reward diversity have been hit-or-miss in the past few years, but NBC stuck with what works when it came to the format of its opening number. I still think about Jimmy Fallon's 2010 Emmy Awards musical intro (in case you forgot what 2010 was like, it was all Glee all the time), and while it didn't have Slushies or Kate Gosselin dancing, the 2018 opener included a spot-on look at today's TV landscape.
We might have been robbed of the wonder that could have been a McKinnon-Thompson power duo, but at least the two have plenty of opportunities to dominate the spotlight on SNL later this month. Saturday Night Live returns on Saturday, Sept. 29 at 11:30 p.m. ET on NBC.