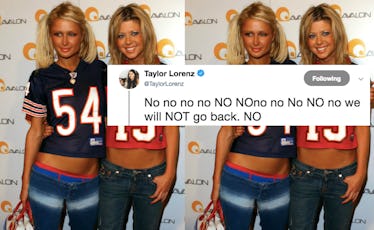 Twitter's Furious Responses To Low-Rise Jeans Making A Comeback Are So Relatable
They say that fashion trends always recycle and it seems like "they" were right, because it's been reported that a major trend from the early 2000s might make a major comeback in 2020: low-rise jeans. While some people might be excited at the thought of being able to get back in to the trend, others are downright cringing at the mere thought of wearing jeans below their hip bones. Either way, you've gotta admit: Most of these tweets about low-rise jeans making a possible comeback are utterly relatable.
This all started after an article on a potential comeback of the hip-hugging jeans was shared by The Cut on Dec. 20. Fashion experts and insiders told the outlet that there's a desire of "Gen-Zers to to capture the trashy Y2K mood," pointing out similar designs that have been seen on runways as of late, as well as the massive following behind early 2000s fashion-friendly Instagram pages like @y2ktrashy or @paris2000s. It's news that has garnered mix reactions. For some people, getting to wear the same low-rise pants that practically made stars like Paris Hilton and Christina Aguilera is amazing. Other people have just said "no," from calling the trousers "misogynistic" to declaring that they should be left in the deepest corners of closets all over. Here's a look at just a few of the responses:
IDK where you stand on this, but I'm with Jamal: 2018 has done enough damage already.
Some people like @mmmegan had no problem tweeting even their most fiery feelings, writing:
LOW RISE JEANS??? YOU HAVE CROSSED THE LINE. I WILL TAKE TO ARMS. YOU WILL CATCH THESE HANDS.
Some people are here for a low-rise trend, though.
Will I be squeezing into a pair of these stomach-baring hip-huggers? Most definitely not. But in defense of the article, many of the trends from the 2000s have already made a comeback, from neon visors and spaghetti tops to denim miniskirts and tracksuits. Celebrities like the Kardashian sisters, Rihanna, SZA, and Sofia Richie often throw it back to the early ages with their fashion looks. The only thing is that they've just got a modern twist now, which has apparently been factored into decisions to bring low-rise jeans back to the market.
Speaking to The Cut, Jill Guenza, the Vice President of Global Women's Design at Levi's, said, "We re-discovered that low rise jeans can be extremely versatile — after some initial cringing hesitation — and included several variations in our portfolio of new fits for spring '19." As an example, she cited "grunge siren Drew Barrymore circa 1994," wearing a baggy pair of low-rise jeans that hugged her hips ever so slightly.
So it sounds like there could be some variation going on, which might not make this trend seem like a fashion nightmare. Either way, love it or hate it, one thing is certain: You're going to be seeing it pretty soon, so you'd better start bracing yourself.