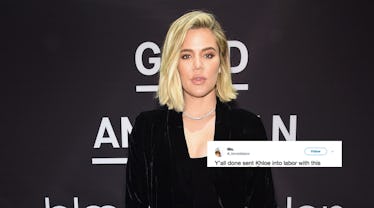 Fans Are All Saying The Same Thing After Learning Khloé K May Be In Labor
Jamie McCarthy/Getty Images Entertainment/Getty Images
And so the plot thickens with Khloé Kardashian and Tristan Thompson. By now, you may know that there's a report that claims Thompson cheated on a very pregnant Khloé Kardashian. But now, things are getting even crazier, because it seems that Kardashian might be going into labor, according to TMZ. According to sources, she is having early contractions (her due date is reportedly at the end of April), so many of her family members are hopping on a plane, flying to Cleveland to be by Kardashian's side. Going into labor early is no joke, and these tweets about Khloé Kardashian going into labor all have one conclusion: fans think that the stress of the recent cheating news has caused Kardashian to start having early contractions.
To make this long and horrible story short: Thompson was in New York City with his teammates, the Cleveland Cavaliers, and was spotted on Saturday night, April 7, at a rooftop bar and lounge. Footage obtained by The Daily Mail shows Thompson with an unnamed woman getting "up close and personal" and shows the woman leaning in towards Thompson. The Daily Mail also claims the two share a kiss in the video. The woman who reportedly took the video told The Daily Mail, "I was there and he was on the table right next to us with a group of friends and some girl who he was obviously making out with all night. They were holding each other and it was so obvious. They were there when I got there and they were part of a big group of friends." Elite Daily reached out to Kardashian and Thompson's teams regarding the report but did not hear back by the time of publication.
These reports are heartbreaking to hear, and being in Kardashian's shoes, I simply can't imagine the emotions she's going through. Fans on Twitter were quick to point out that stress plays a huge role in your pregnancy, and that something as revelatory as this can absolutely cause early contractions:
Others were quick to point out that these two instances happening at the same time didn't just seem like a mere coincidence:
But seriously, who would plan something like that? That's a tough pill to swallow if there's any truth to these theories.
What I find to be the saddest part of it all is that Kardashian packed up her entire life and moved to Cleveland to be with Thompson to prepare for the arrival of their daughter. She revealed to her fans on April 3 that she decided that she'd be giving birth in Cleveland and that she was "happy" to relocate. She wrote,
Throughout my pregnancy, I traveled back and forth between L.A. and Cleveland quite a bit, but after a while, it was a little difficult. It was more tiring and my body got swollen, which never used to happen before pregnancy. I obviously love both cities, but I will say I'm happy to be in Cleveland right now.
She continued, writing,
...I'm with Tristan and I get my home time — cooking, being with my love, and just more of a routine. In L.A., I'm SWAMPED with work. But then again, I love being in L.A. because I get to see my sisters and my mom, and I have my trainer and the people that I've grown up with. So there are perks to both cities for me!
And it doesn't help that on April 10, TMZ released a video of Thompson seemingly kissing another woman and putting his head in another woman's chest at a hookah bar back in October of 2017, which would have been when Kardashian was just three months pregnant. Elite Daily reached out to Kardashian and Thompson's teams about the TMZ video but did not hear back by the time of publication.
No matter what's going on over there, I'm sending positive vibes to Kardashian, because it's clear that she needs as much support as she can get at a time like this.