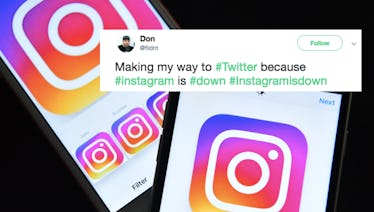 Twitter Is Freaking Out About Reportedly Not Being Able To Post On Instagram
Carl Court/Getty Images News/Getty Images
On Wednesday, March 13, many of Instagram's more than 1 billion global users flew into a widespread panic when they realized that the popular social media app appeared to be down. They headed to Twitter to air their ~feelings~ about the whole situation, and these tweets about Instagram reportedly not working are in full-on freak out mode. At the time of publication, a Facebook spokesperson tells Elite Daily in a statement, "We're aware that some people are currently having trouble accessing the Facebook family of apps. We're working to resolve the issue as soon as possible."
Hundreds of Instagram users around the world went off on Twitter Wednesday afternoon when they realized that many people were having problems posting images and videos to Instagram, and, in some instances, were reportedly unable to log on to the platform at all. According to screenshots shared on Twitter, some people received error messages when they tried to post or got a notification saying that the app will auto-post their photos once the app is back up.
Considering that Instagram is one of the most popular social media networks at the moment and many also use the app to promote businesses or personal blogs, the realization that Instagram was apparently down was a moment of mass hysteria for many — especially as the unexpected development occurred during a popular time slot for posting.
Without Instagram at their fingertips, many headed to Twitter to commiserate over the ramifications of the glitch, which is also impacting Facebook and Messenger, with memes poking fun at the different stages of panic.
It's a rough Instagram-less world out there, y'all, and the struggle is so real.
Many users made light of the fact that there was a mass exodus to Twitter — technically a competing platform — shortly after the glitch, with users heading to the app to find out as much information as they could about the outage. #FacebookDown and #InstagramDown are both currently trending on Twitter.
Now that we're all accustomed to a mid-afternoon scroll through our feeds, people are not OK with the fact that they have to get over the mid-week hump by actually interacting with their coworkers or *gasp* attempting to be productive.
The one silver lining to Facebook, Messenger, and Instagram all being down in numerous continents is that it's likely the tech giant will be working overtime to come up with a solution sooner rather than later. According to Downdetector.com, users in the United States, Western Europe as well as parts of South America and Asia are all experiencing issues. TBH, a tiny part of me feels better knowing that there are thousands of other people also struggling through their Instagram withdrawals.
I know it's easier said than done, but we all just have to hang tight until a fix comes our way. Until then, you can find me over at Twitter.