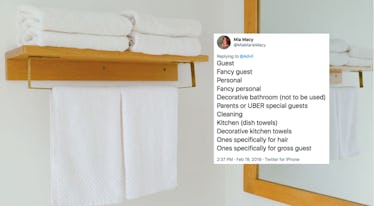 People On Twitter Are Absolutely Torn Over How Many Towels A Couple Should Have & LOL
Have you ever wondered how many towels you and your partner should have? Well, even if you haven't, these tweets about how many towels couples should have prove that other people have been thinking about it a lot. Twitter has all but erupted over a debate about what constitutes as the perfect number of towels for a family to have. Like, I have two towels, my roommate has two towels, we have a couple of beach towels, about eight hand towels, and two bath mats. I didn't realize until just now that this might be the most scandalous thing about me. No, seriously, these people on Twitter take their opinions on the whole towel number debate very seriously.
So, how did all of this madness begin? Well, a guy who somehow managed to snag the username @Advil turned to Twitter for what I would have assumed was a pretty innocuous question. Little did he know, his innocent little question would turn out to be one of the most divisive scandals to hit the internet since the 2016 election. Just kidding, but, like, not really. It's a seriously puzzling question, people! Are two enough? Three? What if you have guests?