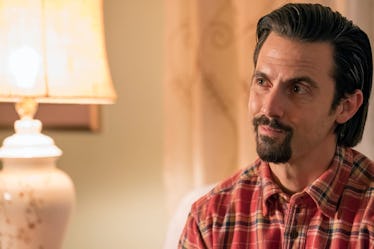 These Tweets About How Jack Died On 'This Is Us' Are Too Emotional To Handle
I knew the Super Bowl episode of This Is Us would be tough to watch when I caught a Gilmore Girls rerun this week and my heart noticeably swelled when a baby-faced Milo Ventimiglia appeared in it. Based on how different the caring Jack Pearson and a troublesome Jess are, reacting to Ventimiglia's face alone definitely says something. Even people who couldn't care less about football stayed awake through the Super Bowl to learn of Papa Pearson's ultimate fate and, understandably, just had to tweet about Jack's death afterwards.
Although this Super Bowl Sunday began with focus on upcoming commercials and your chips and dip spread, This Is Us creator Dan Fogleman joined the pre-game hype with a message for viewers. He chose to remind fans that, while the episode's death reveal closes a chapter in the show's history, discovering how Jack died was never the ultimate point of the show. Any longtime viewer can agree — I'm just as likely to cry over William saying goodbye to his granddaughters or Kevin comforting Randall during an anxiety attack as I was about Jack the past week.
Of course, it's impossible not to love Ventimiglia in this role, so every now and then he deserves to be the reason for our tears.
That being said, he admitted that both the Super Bowl episode and this week's upcoming episode are specifically dedicated to Jack's story. Does that mean we'll get some more info on Jack's surprise brother in Tuesday's episode?
For fans watching the big game, Fogelman also teased their suspense with some relevant sporty humor. I literally don't know what the football term he used means, but I appreciate the joke behind it.
Before the final points of the game were scored in Minneapolis, fans also expressed their apprehension for the episode ahead. Was anyone else stress-eating pigs in a blanket like I was?
Members of the cast, including our man of the hour, shared a behind-the-scenes video of themselves selecting a word to describe the whirlwind episode. As always, Papa Pearson knows best.
Even NBC jumped in on the inevitable emotional trauma that viewers would soon experience.
When the game ran a little long, the fandom decided it was collectively over football. Then there's me, who's always over football.
Thankfully, those who waited for the episode weren't disappointed. Our leaking tear ducts are totally worth it, right?
Somewhat predictably, the show delivered a fake-out within its first minutes, hinting that Jack died in the fire before showing his escape with both Louie the dog and some sentimental items. Honestly, this only made any following scenes with Jack more heartbreaking.
When Jack went into cardiac arrest shortly after, Rebecca summed us all up during her moment of denial upon the news. She broke down and saw glimpses of their life together before seemingly becoming numb. Did you really have to show that flashback of young Jack, guys?
While it wasn't confirmed, Jack's face before Rebecca left his room definitely supports the theory that he could sense what was coming. Seeing as Jack tried to satisfy Kate even in a crisis moment, saving Rebecca from witnessing his moment of death doesn't surprise me at all.
With this major emotional milestone past us, I'm dying for more closure on Jack's death to accompany Tuesday's episode. Also, can we just agree now that Milo Ventimiglia and Mandy Moore deserve all the awards after today? Imagine Mama and Papa Pearson both scooping up Emmys later this year.
Until then, I'm joining the Twitter universe in wiping up our puddles of tears and trying to compose ourselves for work tomorrow morning. Stay strong, This Is Us fans!