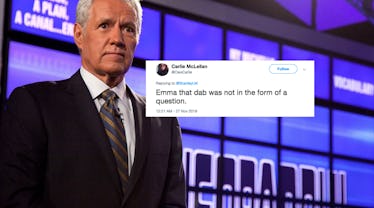 Twitter Is Losing It Over Emma From 'Teen Jeopardy' Who Didn't Know How To Dab
Ben Hider/Getty Images Entertainment/Getty Images
In case you haven't heard, there's been quite an uproar online over a recent Teen Jeopardy contestant who is honestly downright adorable and super smart. So, what's causing the ruckus? During an airing of a recent episode, it became evident that Teen Jeopardy contestant Emma Arnold didn't know how to dab. The internet has a lot of feelings about this. That's why these tweets about Emma from Teen Jeopardy are honestly so pure.
Emma Arnold marches to the beat of her own drum, at least that's what Twitter thinks when it comes to her trying to dab. In an image that's making its way around Twitter, Emma Arnold can be seen standing behind the Jeopardy podium with two other contestants on the show. She and all of the other contestants went to dab at the same time, and well, let's just say Emma's version looks a bit different than the others. Both Claire Sattler and Maya Wright seemed to get the move right, with their heads buried in their elbows and arms up.
But what about Emma? Well, she's got both arms pointed to her side and is staring directly at the camera, flashing a big ol' smile. That's not exactly the dab, but uh, it's close. There's no doubt that Emma is a smart cookie, so that makes up for her lack of dab knowledge.
So, who is Emma Arnold other than a total badass that doesn't know how to dab and likes to dress in a similar fashion to Wednesday Addams? If you watched the episode, you probably noticed the bunnies stitched into her shirt collar. She is a homeschooled high school junior from Owings Mills, Maryland, according to the Baltimore Sun. She's quite the character who ended up making her way to the final rounds of the two-week teen tournament. Emma started off by competing against 15 other participants ranging in age from 14 to 17.
Honestly, she's already cooler than the rest of us for taking home second place on Teen Jeopardy. Emma won $50,000 during the Teen Jeopardy tournament, which is no small chunk of change. Kudos to her. Hopefully, since her big win, she's watched a few instructional YouTube videos about how to dab for the next time she takes over Teen Jeopardy.
I just can't wait until the next time Emma Arnold pops up. I'm really hoping she will make another appearance on future episodes of Teen Jeopardy. Or, maybe she will surprise us all and make a huge comeback on the actual Jeopardy! show when she's an adult — with a well-executed dab and all.
I love watching Jeopardy!. I grew up watching it and I'm an overall nerd when it comes to game shows. When I can, I still tune into the weeknight quiz show to exercise my knowledge of things from the comfort of my couch. Although, I'm no Ken Jennings. I'm no Emma Arnold, either. You go girl.