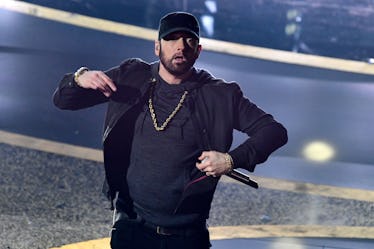 Twitter Has Serious Feelings About Eminem's Unexpected Oscars Performance
MARK RALSTON/AFP/Getty Images
The 2020 Oscars were filled with memorable musical moments, but one very unexpected surprise performance took the cake. Halfway through the big show, Eminem hit the stage to perform an iconic throwback track in honor of how music has impacted movies through the years. These tweets about Eminem's 2020 Oscars performance capture the surprise everyone felt in that moment.
Prior to Eminem's surprise arrival, the 2020 Academy Awards had already staged some major musical moments. Janelle Monáe opened the show with an audience interaction-filled performance of her 2009 song "Come Alive (The War of the Roses)," and Idina Menzel belted out the Frozen 2 smash "Into The Unknown" alongside other Elsa voice actresses from the international translations of the film. Then, Breakthrough star Chrissy Metz performed her Oscar-nominated song, "I'm Standing with You."
When Hamilton mastermind Lin-Manuel Miranda took to the stage, it was clear another big musical moment was about to come. Miranda introduced a montage of some of the most memorable music moments in the history of cinema, emphasizing how much one song can elevate a movie scene. Of course, most of the songs featured won the Best Original Song Oscar in past years, and the montage ended with a live performance of one of the most memorable Best Original Song winners ever.
After the video ended, Eminem shocked everyone by launching into an unannounced performance of his 2002 hit, "Lose Yourself." The track became a hit after being featured in the hip-hop drama 8 Mile, when Eminem's character performed it during his climactic rap battle. It went on to win the 2003 Oscar for Best Original Song, breaking ground for the genre of hip-hop and rap in Academy Awards history.
The throwback performance clearly took everyone by surprise, and Eminem's performance was filled with cutaways to the audience. Some celebs were clearly feeling it while others had different reactions — all of which immediately went viral, of course. Check out the best responses on Twitter about everything that went down during Eminem's big moment:
Clearly, both the celebs in the crowd and the viewers watching the Oscars were kind of split on the Eminem surprise, but it was definitely one of the wildest surprises at this year's ceremony, and an awesome throwback moment.