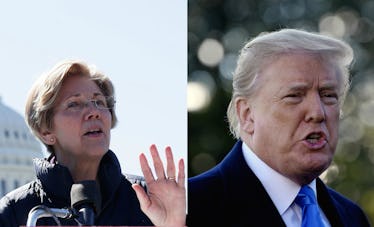 Twitter Wants Trump To Pay Up For His "Pocahontas" Jabs At Elizabeth Warren
Alex Wong/Getty Images News/Getty Images & Pool/Getty Images News/Getty Images
From Kanye West's appearance in the White House to Donald Trump's interview on 60 Minutes, the past few days have truly been a wild ride. Well, leave it to Massachusetts Sen. Elizabeth Warren to add fuel to the fire, but in the best way possible. Warren recently released her DNA results, confirming her Native American ancestry, and now these tweets about Elizabeth Warren's DNA test are calling for Trump to make good on an old bet. Time to come forward, Mr. Trump.
On Monday, Oct. 15, Sen. Elizabeth Warren released results from a DNA test, where the test concluded that Warren's Native American ancestry might date back six to ten generations — not enough for her to be considered Native American by the standards of most modern tribes, but enough to confirm her family story of a Native American ancestor.
This DNA test may strengthen Warren's claims about her heritage, but it also serves as a factual and concrete clapback against Trump, who has taunted Warren in the past about the matter. During a Montana rally in July, Trump questioned Warren's Native American heritage, and even went so far as to call her "fake Pocahontas." Elite Daily reached out to the White House for comment on the term, but did not immediately hear back. In addition, during the rally Trump claimed that if Warren took a DNA test and showed proof of her ancestry, he would personally give a million dollars to the charity of her choosing.
Well, the results are officially in, and Twitter (along with Warren herself) are calling for Trump not only to apologize to Warren, but to put his money where his mouth is.
The same day, Warren tweeted about Trump's expensive promise, and said that she wanted the money to go towards the National Indigenous Women's Resource Center, an organization that helps protect native women from violence.
Clearly Twitter is eager for Trump to live up to his side of the bet, but it doesn't seem like that'll be happening anytime soon. In response to Warren releasing her DNA results, Trump spoke to reporters on the White House South Lawn on Oct. 15 and boldly declared "who cares," while denying he promised to give $1 million to Warren. Elite Daily reached out to the White House for further comment, but did not immediately hear back.
Clearly, Trump is having a bit of a memory lapse, and unfortunately no one can make him cough up the chunk of change. But Trump aside, these DNA results are definitely good news for Warren and her possible 2020 presidential run. Warren has proudly discussed her Native American heritage throughout her career, but said in a statement on Oct. 15 that she always knew her ancestry would be attacked. She said,
When I decided to run for Senate in 2012, I never thought that my family's Native American heritage would come under attack and my dead parents would be called liars. And I never expected the president of the United States to use my family's story as a racist political joke.
Warren, who spoke about hearing as a child that she had Native American blood, isn't alone. According to a 2012 article from Slate, one study found that 4 to 5 percent of the U.S. population has some Native American heritage (though the sample was very limited). When it comes to people who self-identify as solely Native American, though, the numbers are even lower: 1.3 percent of Americans, according to the U.S. Census Bureau. Warren, whose Native American ancestor was at least six generations back, probably isn't eligible for membership in a Native American tribe.
Either way, 2018 is proving to be the year of "show the receipts," and Warren has officially laid hers on the table. Your move, Trump.