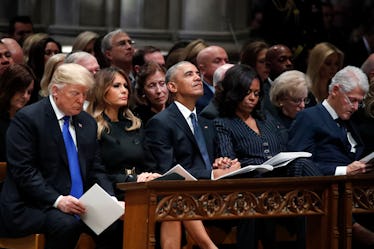 Twitter Can't Get Over How Uncomfortable Trump Looked At George H.W. Bush's Funeral
Pool/Getty Images News/Getty Images
On Dec. 5, the country was in mourning for former President George H.W. Bush, who passed away on Friday, Nov. 30 at the age of 94 in his home in Houston Texas. To honor his memory, former presidents and leaders from around the world gathered at the National Cathedral in Washington D.C. for Bush's state funeral on Wednesday. Both President Donald Trump and first lady Melania Trump were in attendance, and, well, despite the solemnity the event clearly wasn't without its awkwardness, because the tweets about Donald Trump at George H.W. Bush's funeral are so uncomfortable.
Bush's funeral served as a bit of a presidential family reunion, as Trump wasn't the only U.S. president in attendance. The current president was joined by former presidents Barack Obama, Bill Clinton, Jimmy Carter, and of course Bush's son George W. Bush. According to CNN, Trump hasn't had any direct content with a single member from the pool of past presidents since he took office — which made for a bit of tension and discomfort.
Trump was not tasked with speaking at the funeral, so all he really had to do was sit there besides Melania along with the other living presidents, which, to be fair, he did. However, tweeters, the cunning minds they are, noticed pretty quickly that he didn't look enthusiastic about the whole thing. In fact, they thought, he looked a little bored, uncomfortable, and even forced to be there. Elite Daily reached out to the White House for comment, but did not immediately hear back.
On Dec. 4, a day before the funeral, The Washington Post reported that the event would not be political and that speakers would avoid attacking Trump in any way. A source close to the Bush family and familiar with the funeral plans reportedly told the publication that the day's proceedings would reflect Bush, who "wouldn't want anyone there to feel uncomfortable, including the incumbent president."
However, that "promise" did not stop Twitter from thinking that the eulogies on Dec. 5 at the state funeral were throwing some shade at Trump — especially that of Jon Meacham, Bush's biographer, who opened the service by describing Bush's accomplishments, character, legacy, and calling him the "last great soldier-statesman."
I'm not surprised that Twitter was keeping a keen eye on Trump during the funeral. Before it's arrival, it wasn't totally clear whether Trump would attend the funeral — especially since he was already left off the guest list for one Bush family funeral. Bush's wife, former first lady Barbara Bush, passed away in April 2018 and made it clear that she didn't want Trump attending her funeral. According to CNN, the former first lady had been very critical of the president. During the 2016 campaign trail, while her son Jeb Bush (who Trump called "low energy") was running against Trump, Barbara told CNN that she didn't like the way he speaks about women and didn't "understand why people are for him." She said,
He doesn't give many answers to how he would solve problems. He sort of makes faces and says insulting thing ... He's said terrible things about women, terrible things about the military. I don't understand why people are for him, for that reason.
Despite Tump's history with Barbara, on Dec. 1, White House Press Secretary Sarah Huckabee Sanders put out a statement saying that Trump and Melania would both attend George H.W. Bush's state funeral, adding that Trump designated Dec. 5 as a day of mourning in honor of the former president, according to Bloomberg. Sanders said,
The President will designate Wednesday, December 5th as a National Day Of Mourning. He and the First Lady will attend the funeral at the National Cathedral.
Not only did Trump attend, but leading up to Wednesday's ceremony, Trump had nothing but kind words for the 41st president. When Bush passed Trump was attending the G20 Summit in Argentina, but tweeted the following day, on Dec. 1, praising the "truly wonderful" Bush and his "successful and beautiful life." Trump wrote,
President George H.W. Bush led a long, successful and beautiful life. Whenever I was with him I saw his absolute joy for life and true pride in his family. His accomplishments were great from beginning to end. He was a truly wonderful man and will be missed by all!
Despite tensions, Bush's funeral was a time for leaders to come together to honor a former president and leave any issues at the door — sorta.