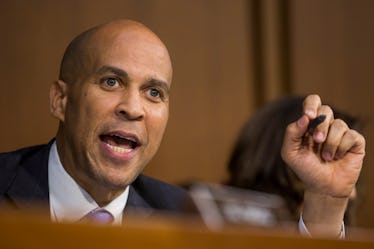 Cory Booker Had A Major Spartacus Moment During The Kavanaugh Confirmation Hearing
Zach Gibson/Getty Images News/Getty Images
On Thursday, Sep. 6, Democratic Sen. Cory Booker released a trove of confidential documents to the public online. Going into the third day of confirmation hearings to confirm Supreme Court nominee Brett Kavanaugh, Booker openly admitted to leaking the documents, which had been turned over to the Senate Judiciary Committee during the hearing process but largely withheld from public view. In response, users on social media were having a field day over Cory Booker's Spartacus moment.
Pressure has been mounting around Kavanaugh, President Donald Trump's pick to fill the court vacancy, to make public his record on a number of hot-button issues. Booker says he released the documents because the public deserved to know the stances of someone who would serve on the bench for life.
"I am going to release the email about racial profiling, and I understand the penalty comes with potential ousting from the Senate," Booker said during the hearing, per The Hill. "This is about the closest I'll ever have to an 'I am Spartacus' moment."
(In case you haven't seen the movie: The "I am Spartacus" moment comes from the 1960 film Spartacus, in which the eponymous Roman gladiator is wanted for leading a rebellion of escaped slaves. An army official offers a deal not to crucify them if they reveal Spartacus' identity, but they choose to protect their leader by all claiming to be him. That line has since been endlessly invoked whenever someone chooses to out themselves or take the bullet for their group.)
"As I've been saying from the beginning, this process has been a sham," said Booker in a statement released on his senatorial website. "The fact that tens of thousands of documents revealing a Supreme Court nominee's views on key issues were deemed Committee Confidential and not available to the public reflects the absurdity of this process. The public has a right to access documents about a Supreme Court nominee's views on issues that are profoundly important, such as race and the law."
At issue was Kavanaugh's views on racial profiling after 9/11. In the documents Booker uploaded, Kavanaugh appears to write in an email from 2002 that he considered himself among those who "favor effective security measures that are race-neutral" but who now had to "grapple with the interim question of what to do before a truly effective and comprehensive race-neutral system is developed and implemented." It wasn't immediately clear whether Kavanaugh was in fact opposed to using racial profiling as an interim solution.
Booker's release prompted backlash from his Republican counterparts in Thursday's hearing, but many on social media found humor in the situation, drawing a parallel between his risky leak and the famous "I am Spartacus!" line.
And many people joked about the parallel between Booker's unabashed it-was-me proclamation and the film — including the GOP.
Kavanaugh's record has come under strict scrutiny for his work in the White House, serving as both counsel and staff secretary under President George W. Bush. For the review process of the confirmation hearing, Bush's legal team had originally handed over some 415,000 pages of documents to the Senate Judiciary Committee; about a third, over 147,000 were marked as confidential and withheld from public view. On Monday, Sep. 3, a lawyer for Bush then handed the committee another 42,000 pages of documents from Kavanaugh's time in the White House, which were similarly labeled as confidential. Senate Minority Leader Chuck Schumer on Sept. 5 moved to force the Senate to adjourn in light of not having access to many of the documents that had been released and little time to review those that had.
"This process has demonstrated an unprecedented level of secrecy and opaqueness that undermines the Senate's Constitutional duty to advice and consent," Booker added in his Thursday statement. And if Booker is any indication, it appears that some senators are willing to go to great lengths to protest the process. (Kirk Douglas would be proud.)