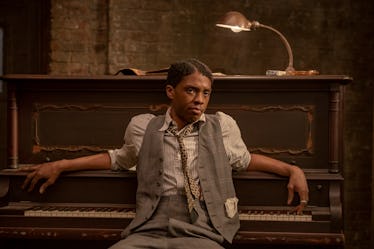 Twitter Is Celebrating Chadwick Boseman's Posthumous Oscar Nomination
Netflix
The loss of Chadwick Boseman to colon cancer in the summer of 2020 was a shock, not just to fans but Hollywood as well. The actor was in the prime of his career, with talk of him being considered during awards season for his turn in Spike Lee's Da 5 Bloods. Since his passing, he's been nominated for both that and his turn in the lead role of Levee Green in Ma Rainey's Black Bottom. Now, that latter role has been nominated for an Academy Award. These tweets about Chadwick Boseman's 2021 Oscar nomination show the actor may be gone, but he's not forgotten.
Directed by George C. Wolfe, Ma Rainey is based on the famous August Wilson play of the same name. Set in 1927, Levee Green (Boseman) is the overconfident trumpeter in Ma Rainey's Georgia Jazz Band, along with fellow members Toledo, Cutler, and Slow Drag. While Ma (Viola Davis) runs late to a recording session set up by her producer Mel Sturdyvant, Green shows up, revealing he's hoping to break away from Ma and get his own record deal. The session winds up a disaster, with Ma and Green having it out and her ultimately firing him.
I won't spoil the tragedy that follows. However, Boseman's performance is utterly riveting, and it makes sense that both Netflix (which produced the film) and Boseman's family have been pushing for this to be his final remembered performance. So, it wasn't a big surprise to see Boseman nominated for his Ma Rainey role when the Academy Awards announced its slate of nominees on March 15, 2021.
But even though Boseman's nomination was expected, fans were still glad to see it.
As more than one person noted on Twitter, Boseman's nomination is historic. Boseman is not the first Black person to be posthumously nominated for an Academy Award. (August Wilson was actually posthumously nominated for Fences in 2016.) But he is the first Black man to be posthumously nominated in the Best Actor category. If he wins, he will join an elite group of posthumous winners — only 16 in all over the Academy's 93-year history. Boseman is the seventh actor to be nominated after death. If he wins, he will be the first Black actor ever to be posthumously awarded an Oscar.
As fans also noted, Boseman's nomination was part of a set of historic firsts.
For many, the nomination was also a moment to grieve again for Boseman's loss.
The 93rd Annual Academy Awards air live on Sunday, April 25, 2021, at 8 p.m. ET on ABC.