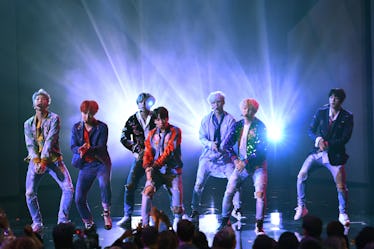 BTS Completely Dominated The Billboard Music Awards & Twitter Lost It
Kevin Winter/Getty Images Entertainment/Getty Images
Korean pop sensation BTS is literally taking over the world. They're everywhere you turn and it's taken them a lot of hard work to become as famous as they are. Although they've only been on the scene for a few years, they've amassed a huge fan base that goes wild for them wherever they turn up. And the constant stream of tweets about BTS at the 2018 Billboard Music Awards definitely proves that.
This superstar K-pop group will hit the stage at the award show with their smooth dance moves and incredible voices to perform their new single "Fake Love." The song is fresh off their brand new Love Yourself: Tear album, which was released on Friday, May 18. So, BTS fans everywhere will get their first glimpse of what this group can do on stage with new material.
In a recent interview with Billboard, members of the group explained that they've incorporated the saying, "See no evil, hear no evil, speak no evil," into their choreography. So, the performance is most definitely going to be intriguing. With a brand new aspect to their performance for dedicated fans to look forward to, I'm sure they'll be beyond happy when the boy band finally does take to the stage to perform.
Some BTS fans actually made it out to the Billboard Music Awards to catch a glimpse of the group on the red carpet. They were chanting and cheering and just showing their complete dedication.
While walking the red carpet, members of BTS also explained to E! News that they've been rehearsing for their performance for months, so whatever they dish out tonight is going to be amazing.
Amid all the excitement about BTS heading to the 2018 Billboard Music Awards, there's been a huge amount of activity on Twitter. In fact, fans were taking to social media almost immediately after BTS hit the carpet. And, of course, everyone had so many different opinions about their general air of awesomeness.
A lot of fans were really showing all their love for the group:
Other fans were super disappointed that they couldn't dedicate all their time to watching the guys on the red carpet:
And then, there were some fans who were obsessing over their outfits:
Their fans are so dedicated. They show their love for BTS every chance they get, so it's wonderful that the fans are getting the opportunity to see them once again at the Billboard Music Awards.
Of course, not everyone is on board with BTS, but the fans don't care that the group breeds differing opinions.
Not a big deal, because all the dedicated BTS fans out there are beyond excited about the new material. And they certainly got a dose of that! BTS' new album, Love Yourself: Tear, features a total of 11 tracks. The track list was released last Sunday, May 13, via Twitter:
Such a great way to spark intrigue about the new album. And the album, no doubt, will sell incredibly well.
BTS definitely knows the power of social media and uses it to their advantage. They're incredibly smart, that's for sure!
No matter what you think of BTS, you can't deny that they have incredible stage presence and power. I mean, how many other acts have the ability to make their fans scream and cry just by simply appearing on stage? That's a rare quality BTS has and it's so clear that they have the unique ability to move their fans emotionally. All in all, you kind of have to admire what they do!