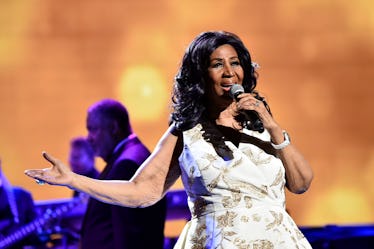 Twitter Is Grieving For Aretha Franklin After Reports Confirm She Died
Theo Wargo/Getty Images Entertainment/Getty Images
Folks across the globe are mourning the death of the late, great Aretha Franklin. News the iconic singer was "gravely ill" hit the public mid-August, 2018, following a series of canceled performances earlier in spring. According to the Associated Press, she passed away on Thursday, Aug. 16. She was 76 years old. Fans have taken to social media to express their heartbreak, and these tweets about Aretha Franklin's death show how beloved and impactful she truly was.
Even back in June 2017, fans were concerned for their legend. At the end of a performance in her hometown of Detroit, she had asked fans to "please keep me in your prayers." While news about her health went quiet after that, by March 2018 she had canceled two performances in New Jersey due to doctors orders for rest. On Aug. 13, 2018, family friend Evrod Cassimy tweeted about how sick she was and asked fans for their support.
He wrote, "BREAKING NEWS: I am so saddened to report that the Queen of Soul and my good friend, Aretha Franklin is gravely ill. I spoke with her family members this morning. She is asking for your prayers at this time. I'll have more details as I'm allowed to release."
At roughly 10 a.m. EST, the AP posted a tweet announcing Franklin's publicist confirmed she died at her home in Detroit.
Folks are taking to Twitter to share their heartbreak and honor their Queen of Soul. The overwhelming message is simply, "Rest in peace, Queen of Soul."
According to TMZ, her death is a result of a long-term struggle with pancreatic cancer. Her health was reportedly in jeopardy for months, and according to the report she was down to 86 pounds. She was surrounded by family and friends when she died. Her family released the following statement following her death: "In one of the darkest moments of our lives, we are not able to find the appropriate words to express the pain in our heart. We have lost the matriarch and rock of our family."
Franklin is survived by her four sons, Ted White Jr., Kecalf Cunningham, Clarence Franklin, and Edward Franklin.
To say Aretha Franklin's career is unparalleled is still an understatement. In her lifetime, she won 18 Grammys, and in 1987 she was the first woman ever inducted into the Rock 'n' Roll Hall of Fame. She also held the record for most female entries on the Hot 100 list for nearly 40 years before rapper Nicki Minaj surpassed her in 2017.
Even young millennials who are predisposed to techno-pop and hard-hitting rap beats will know the lyrics to her most famous soulful hits, "Respect" and "Natural Woman." I haven't been to karaoke once in my whole life without her riffs coming through the speakers. Of course, today's most beloved musicians and icons have been inspired by her as well, and her music will surely live on. She was truly the Queen of Soul and will be sorely missed.