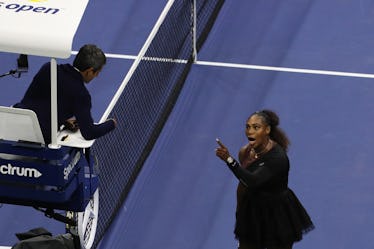 Twitter Is Not Happy About This "Sexist" Cartoon Of Serena Williams's U.S. Open Loss
Jaime Lawson/Getty Images Sport/Getty Images
A jaw-dropping match at the U.S. Open on Saturday, Sept. 8 left an impression on tennis fans and beyond. Anyone who saw the dramatic showdown between Japan's Naomi Osaka and the U.S.' Serena Williams knows that the America tennis star's reaction to an umpire's call which cost her the game in one of the most controversial sporting events in recent memory. As the world is processing the outcome of the match, a viral cartoon of Serena Williams on Twitter is being called out for how it depicts the world-class athlete in what many see as blatant racism and sexism.
The cartoon, by artist Mark Knight, appeared in the Sunday edition of Melbourne newspaper The Herald Sun. The drawing reflects the moment that Williams, in the throes of a contentious set after arguing with the umpire, threw her racket onto the court, breaking it. The cartoon portrays a caricatured, big-lipped Williams jumping up and down on her racket, while a baby's pacifier on the court appears to have dropped from her mouth. In the background, the umpire asks Osaka why she can't "let [Williams] win." Elite Daily reached out to Knight and the Sun via social media for comment on the cartoon but did not receive a response at time of publication.
During the game, the chair umpire, Carlos Ramos, had penalized Williams one point for arguing over whether she'd received coaching from the stands. Williams fought back, saying that she'd never cheated in her life, and demanded an apology for "attacking her character." As the discourse unfolded through the match, Ramos eventually slapped Williams with a loss of game penalty from which she was never able to recover, and Williams lost the match to Osaka. Osaka, 20, ended her historic first-ever win at the Grand Slam with a chorus of boos at the post-match ceremony, pulling down her visor and crying. She later told press that the event left her "a little bit sad" that her win came under these circumstances.
On social media, many people were outraged by the cartoon. "Well done on reducing one of the greatest sportswomen alive to racist and sexist tropes and turning a second great sportswoman into a faceless prop," author J.K. Rowling tweeted about the cartoon, referencing both Williams and Osaka.
Rowling wasn't the only one to jump to Williams' defense and call foul on the depiction. "Where was this cartoon for all the men who have broken their rackets over the years?" tweeted sportswriter Julie DiCaro.
Responding to DiCaro, Knight shared another of what appears to be his own creation made of Australia's Nick Kyrgios, writing, "Don't bring gender into it when it's all about behavior."
But that didn't stop many from taking issue with the cartoon of Williams. "This is Jim Crow-racist," tweeted Rolling Stone writer Jamil Smith, referencing the set of laws that had allowed for racial segregation in the South. Smith said the cartoon also invoked Sambo, a fictitious character trope regarded as a highly offensive caricature of African people.
Some saw the cartoon, in fact, as less about sex and more about race. Some picked up on the fact that the cartoon seemed to depict Osaka, who is Japanese, Haitian, and American, as a white woman with blonde hair and light skin, calling it "whitewashing" and erasure.
"This isn't about 'gender,'" tweeted anti-racism activist Tariq Nasheed. "This is simply global anti-Black white supremacy." Others focused on how men's rage in sports is welcomed while that of women is chastised.
Regardless of how people personally felt about Williams' behavior on the court and whether it was justified, many agreed that the cartoon itself was beyond the pale.
"Serena Williams didn't have a meltdown," tweeted actor Trayvon Free. "She defended her honor on one of the grandest stages in a sport she's dominated for her entire adult life that continually disrespects her. Don't reduce her justified frustration to sexist behavioral stereotypes."
In an interview Saturday shortly after the game, Williams defended her reaction, characterizing Ramos' call as gender-based discrimination. "It made me feel like it was a sexist remark," Williams told the press. "He's never took a game from a man 'cause they said 'thief.' For me, it blows my mind. But I'm going to continue to fight for women and fight for us to have equal [rights]."
The dramatic match sparked a public conversation around double standards in sports, as many, like Williams, saw the penalties as biased based on gender and race. Op-eds abounded in major outlets defending Williams' reaction and calling out the disparity in how male and female athletes are treated.
Williams incurred a fine of $17,000 for her exchanges at the match on Saturday, but despite the tangible losses on paper, the 23-time Grand Slam champ has sparked a larger conversation around women of color in sports. And if Twitter is any indication, the public isn't going to take any off-color depictions of her standing up for herself.