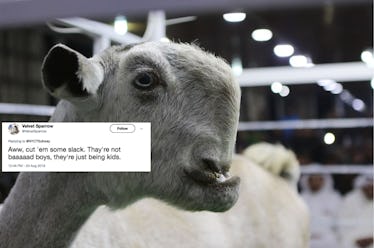 The NYC Subway Just Hilariously Live-Tweeted These Goats Running Wild On The Tracks
Salah Malkawi/Getty Images News/Getty Images
Taking the New York City subway on a regular basis has desensitized me to a lot of really bizarre things. I've seen countless acrobatic performances, really strange outfits, questionable hygienic decisions (yes I've watched people clip their nails on the subway), and even unusual animals riding the MTA, including anything from pet pigeons, to lizards, and even giant snakes). Until today, I had never seen farm animals running along the tracks, though, and Twitter's responses have been straight-up hilarious. So in case you haven't already seen these tweets about two goats loose on the New York City subway, they're freakin' unreal, and will totally brighten your day.
It all started when, shortly before 11:30 a.m. ET on the morning of Aug. 20, the MTA made an announcement via Twitter, saying there were two goats roaming along the N subway line tracks in Brooklyn, New York. They said that the two goats are safe and that their antics aren't, in fact, affecting service, but they reassured subway riders they'd keep everyone posted. Then, they started having some fun with it. The subway account proceeded to post a picture of the goats in question, calling them "baaaaad boys." Someone's having fun with their puns.
They followed it with another photo, showing the NYPD wrangling the two animals from the tracks. Yes, it was so, so weird, but it was also fantastic. Make sure to check out the original tweets below.
How cute are they? There's no denying that these adventurous little goats are beyond adorable.
But shortly after 1 p.m. ET, it looked like the goats' fun was done. The subway's Twitter account posted at 1:10 p.m. ET that the goats had been removed from the tracks — with one last pun.
Nevertheless, the punny folk of the Twitterverse are clearly having a ball with this. You should see the jokes these people come up with, because they'll have you in literal stitches.
As I said earlier, several people in the Twitterverse just aren't freaking surprised about this. Please, guys, this is New York City, what do you expect? A normal day for the subway? That's totally out of the question. These folk aren't even questioning anything about this, and it's kind of great (and totally relatable, to be quite honest).
Others in the Twittersphere are simply worried for the goats. While the MTA made sure to update worried followers, reassuring everyone that the goats were, in fact, doing just fine, the animal lovers of Twitter were out and about, checking up on these furry pals. As a long-time animal lover and goat enthusiast, I'm totally with them on this one.
Don't get me wrong — I'm always interested in any and all strange New York City subway sightings. When something really strange happens, though, it's not all that jarring. In fact, it's just another day in the city. Reactions from New Yorkers about subway goats are not only hilariously punny, but they're also humorously unsurprised, and some are even more worried about the goats than anything else. I wish the best of luck to these goats, on any and all of their endeavors, and I know for a fact that their day frolicking through Brooklyn, New York, has been one for the books.