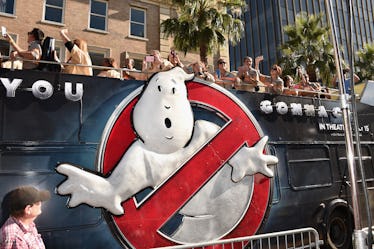 Spotify's Top Streamed Halloween Songs Are Here For The Best Halloweekend Jams
Alberto E. Rodriguez/Getty Images Entertainment/Getty Images
I think it's pretty safe to say that everyone loves a good old-fashioned Halloween playlist. Whether you're jamming to "Monster Mash" alone in the car or bumping "Disturbia" over the speakers at your gigantic Halloween bash, a never-ending list of spooky tunes almost always manage to come in clutch. And if you need any inspiration for making the best possible spooky season playlist, these top streamed Spotify Halloween songs should definitely do the trick. They're almost guaranteed to give you the biggest (and creepiest) fright of your life.
Just in time for Halloween on Wednesday, Oct. 31, Spotify came in totally clutch when the company released the top streamed Halloween songs in the U.S. and around the world. As you probably would have imagined, Michael Jackson's hit "Thriller" made it to the very top on both the U.S. and international most-streamed lists. Unsurprisingly, it's closely followed by "Ghostbusters" by Ray Park Jr., and the ever-so-classic "Monster Mash." So, if you're currently putting your own Halloween playlist together and you need a little inspiration, check out the top 10 streamed songs in the United States, below:
Michael Jackson's "Thriller"
Bobby "Boris" Pickett's "Monster Mash"
Ray Parker, Jr.'s "Ghostbusters"
Blue Öyster Cult's "(Don't Fear) The Reaper"
AC/DC's "Highway to Hell"
The Citizens of Halloween's "This Is Halloween"
Warren Zevon's "Werewolves of London"
Rockwell's "Somebody's Watching Me"
DJ Jazzy Jeff & The Fresh Prince's "A Nightmare on My Street"
Santana's "Black Magic Woman"
You'll be surprised to learn that the top 10 streamed Halloween songs globally are exactly the same, which is pretty wild. Even though Halloween is traditionally celebrated mainly in the United States, according to Spotify, the spooky holiday is gaining popularity in other countries outside of the United States, which is pretty cool to think about. I don't know about you, but I'd love to celebrate Halloween in another country. France? Thailand? Maybe Ecuador? I'll keep all of those destinations in mind for next year's festivities.
If you're throwing a Halloween party this year, you'll have some setting up to do, aside from creating that playlist. If that's the case, make sure you check out these tips on how to throw a last-minute Halloween party, according to a bartending expert. From serving a spooky signature cocktail to making a big bowl of punch, there are so many different ways you can make your party positively spook-tastic. Just make sure you make it all extremely Instagram-worthy with some garnishes, and, of course, a little black magic.
You're free to disagree with me on this, but Halloween is undoubtedly the best time of year. While candy and decorations are important, the music is obviously one of the best parts. From classics like "This Is Halloween" and "Werewolves of London," to more contemporary hits, like DJ Jazzy Jeff & The Fresh Prince's "A Nightmare On My Street," there's definitely a song for everyone. Take inspiration from these popular hits, or make a completely new playlist of your own. Regardless of what you decide to do, don't forget to make it spooky as heck.