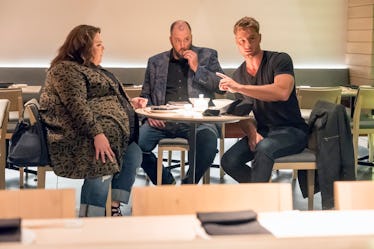 These 'This Is Us' Group Costume Ideas Will Make Your Halloween That Much Better
NBC
This Is Us returns to the airwaves for Season 3 at the end of September, and fans have their handkerchiefs at the ready. But the Pearson family isn't just good for a cathartic sob or two every week on Tuesdays. They also make an excellent group of characters to go as this coming Halloween. With the show's popularity growing exponentially over the first two seasons and airing in the post-Super Bowl slot last winter, everyone knows who the Pearsons are now. These This Is Us group costume ideas are perfect for couples, groups of three, families, or even squads of five.
To keep it simple, these suggestions all focus on the core Pearson clan, the ones, as Toby once said, on the inside. This doesn't mean larger groups shouldn't feel free to add a Beth, or a Miguel, or a Deja if they are so inclined.
The beauty of This Is Us is they dress, well, just like us! This makes doing any of their costumes a breeze. The fact is, every character's outfit can be assembled from clothing found on Amazon's website, and nearly all of it on Prime shipping. It's just a matter of which characters to choose.
Let's run down the Pearson clan eras, and how to dress like them: