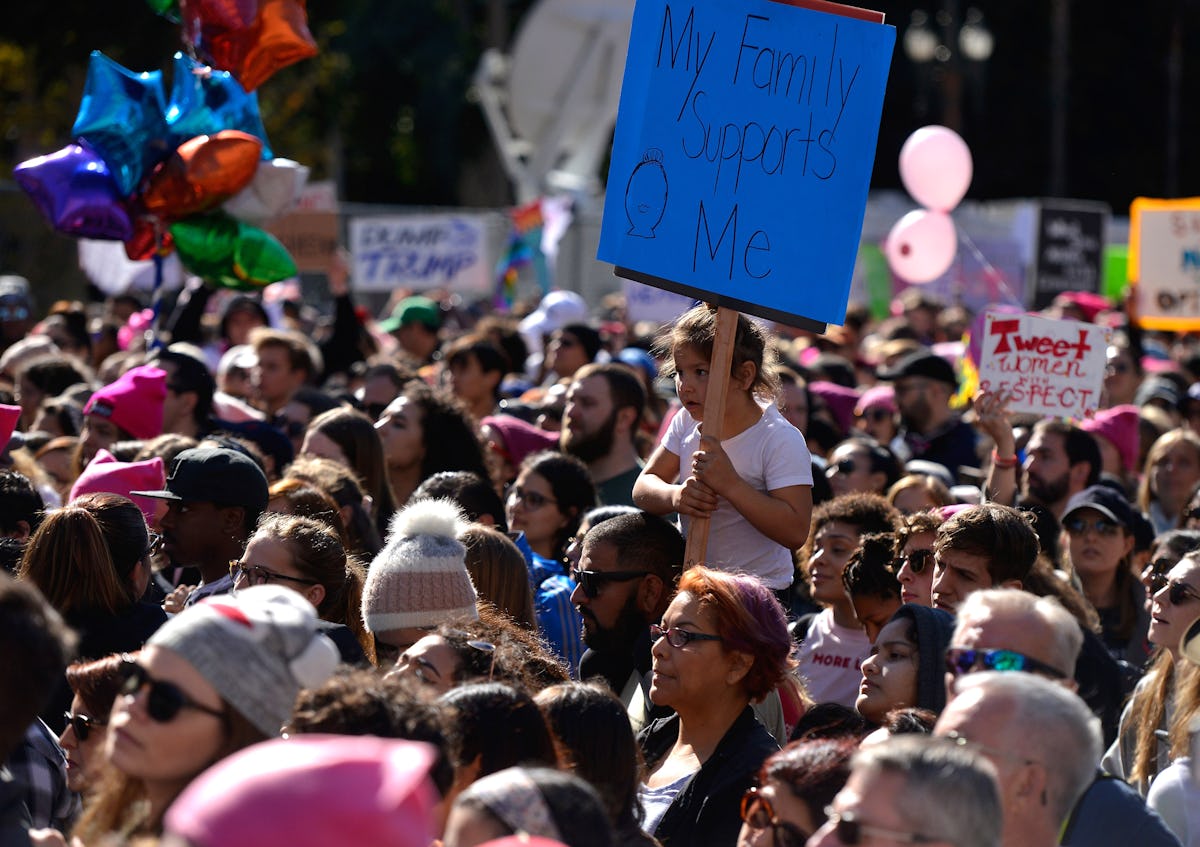 These Teens Used Disney Princesses To Protest At The Women's March, & It's Brilliant
Chelsea Guglielmino/Getty Images Entertainment/Getty Images
This weekend millions of people gathered in cities all around the world for the 2018 Women's March. Not only did a huge crowd turn ou,t but they brought their creative game to the protest, however the winners of the day had to be this group of teens dressed as Disney Princesses at the Women's March. Love it.
On Saturday afternoon, Buzzfeed reporter Brianna Sacks posted photos of the teen squad from the Jan. 20 Women's March on Los Angeles on Twitter. The caption read, "These 13-year-olds 'took damsels in distress and turned it around.'"
Their Sleeping Beauty's sign said "Stay Woke," while Ariel's said, "Bright young women, sick of swimming, ready to stand." Elsa's declared, "I will not let it go." And the teen dressed as Tinkerbell had my personal favorite sign, "Pixie dust won't fix this."
"We're sick of being seen as princesses so we made our own take on it and my friends were really passionate about doing it," one of the teens told Sacks. Gwyneth Williams, who rocked Tinkerbell, said:
I feel empowered to know that there are people out there who care about the future of women, and even though there are people who will bash us. There are also people who have your back.
It's honestly just so perfectly appropriate. Often, the first stories or movies that little girls see are Disney fairytales, therefore those princesses become the first role models that these young girls have to look up to. Unfortunately, they don't always set the best examples. So the fact that these teen girls decided to recreate these princesses in their own vision is truly spectacular.
These teens may have stolen the show at Los Angeles but there were tons of people across the country who brought their creativity to this year's Women's March.
The puns were in full force.
Then there's just the downright hilarious ( and also very true).
Even celebrities got in on the game.
The 2018 Women's Marches, which were held on Jan. 20 and 21, took place a year after the first, which was held the day after President Donald Trump's inauguration. Last year's main march took place in Washington, D.C., with sister marches happening around the country. This year, however, the organizers of the Women's March decided to host the main event in Las Vegas, Nevada in hopes of turning their focus into political action.
Linda Sarsour, a Women's March co-chair, told CNN that the march had to move to a place that was politically relevant. She said,
When 2018 came around, we had to be really strategic about what message we want to come out of this gathering. And in order for us to put forth a strong message that women are going to lead the victories in 2018 electorally, we had to go to a state that was relevant. We chose Nevada.
It's with that idea in mind, this year, the organizers turned the events into a voter registration tour called Women's March: Power to the Polls in an effort to "channel the energy and activism of the Women's March into tangible strategies and concrete wins in 2018."
The Power to the Polls page outlines exactly how organizers plan to turn idea into action. It says:
The national voter registration tour will target swing states to register new voters, engage impacted communities, harness our collective energy to advocate for policies and candidates that reflect our values, and collaborate with our partners to elect more women and progressives candidates to office. The coordinated campaign will build upon Women's March's ongoing work uplifting the voices and campaigns of the nation's most marginalized communities to create transformative social and political change.
This year's Women's March turned out to be just as vibrant as the last. So whether you are registered to vote, or not yet old enough like our teen Disney princesses, everyone has a voice and the ability to turn thinking into action.