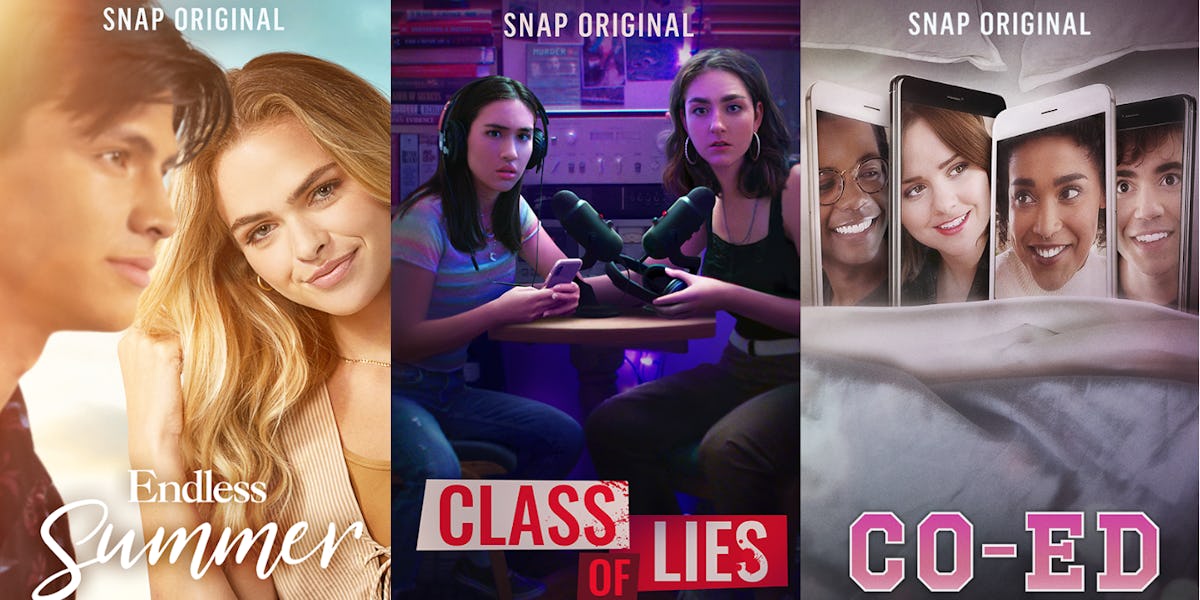 Snapchat Just Dropped 3 Brand New Original Shows You Watch Right There On Your App
Snapchat
Snapchat is taking its first big leap into the world of television. On Wednesday, Oct. 10, Snapchat announced a new venture known as Snap Originals. It is a way for users to watch original content produced by Snapchat and it can be done within the app itself. These Snapchat Snap Originals are new scripted and unscripted shows, and some of them are already available to stream.
Snapchat is working with some of the industry's biggest production companies like Bunim/Murray Productions and Makeready to create "short, hyper-visual and fast-paced" shows for Snapchatters to watch and enjoy, according to Snapchat. Each show will have a profile page, so you can easily explore episodes and discover new shows as they are added to the app.
If this is starting to sound a little like Netflix or Hulu, you're not wrong. The basic concept is the same, but there are some notable differences. For starters, Snap Originals are short films that max out at about five minutes in length. Each show will have multiple episodes, so you can watch a series in a fraction of the time you normally would. Oh, and you won't find these shows anywhere else. Each series is exclusive to Snapchat.
Another perk? You can watch the shows directly in the Snapchat app. The unscripted and scripted shows are featured in the Discover section of the app. On that page, you will find three new shows launching on Oct. 10. The lineup looks legit. These following shows are available to watch now and include:
Endless Summer. In Laguna Beach California, two influencers learn to navigate the ins and outs of their relationship and fame. Summer McKeen and Dylan Jordan are the stars of this show.
Class of Lies. Two best friends and college roommates solve cold cases on their popular crime podcast. They are presented with a case of their own when their best friend vanishes. This scripted series features Camille Ramsey and Tatsumi Romano.
Co-ed. Two college roommates go on a journey of self-discovery while trying to balance classes, a busy social life, and dating. This scripted series stars Tara Lynne Barr, Lucy Barrett, Noah Galvin, Clark Moore, and Amy Landecker.
That's not all Snapchat has up its sleeve. The social media app will launch three additional scripted and unscripted shows later this year. Vivian, a docuseries that follows Wilhelmina model Vivian Benitez, and The Dead Girls Detective Agency, a comedy about a woman who is on a quest to figure out how she died, will launch on Monday, Oct. 22. V/H/S/, a horror anthology series, will be released on Sunday, Oct. 28.
It wouldn't be Snapchat without a few show-related Lenses, either. The app has created several portal Lenses, also known as Show Portals, for each series. To activate the Lenses, just swipe up from an episode and you will be able to walk into a scene and engage with characters and objects from the show, according to Snapchat.
If you don't see Snap Originals in your Snapchat app yet, you may need to troubleshoot the problem. It's very easy to do. Make sure that your Snapchat app is up-to-date. You can check this by navigating to the app store on your iOS or Android device and checking for an update.
Still don't see it? It shouldn't take long to appear. Snap Originals was rolled out globally on Wednesday, Oct. 10, but sometimes these things can take time to reach all users. Give it a few hours and try again later. Luckily, these shows won't take you long to watch. You won't have much catching up to do if your friends are already done with a series.
This could be just what Snapchat needs to win back users after nearly 3 million of them stopped using the app earlier this year. I've always been a fan of Snapchat, but the addition of Snap Originals will certainly keep me coming back for more.