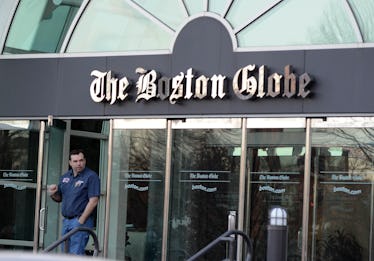 Newspapers Around The Country Are Brutally Calling Out Trump's Attacks On The Press
Darren McCollester/Getty Images News/Getty Images
President Donald Trump hasn't exactly been a friend to the press. Since the campaign trail his rhetoric has been to lash out against the media, often referring to them as "fake news" or as an "enemy of the people." In an effort to push back on Trump's tirade against the press, The Boston Globe put out a call asking newspapers across the country to address Trump's comments on the press, and the outcome was pretty amazing. On Aug. 16, newspapers around the country put out op-eds denouncing Trump's rhetoric about the media, and these quotes from newspapers about Trump's attacks on the press are worth a read.
The Boston Globe, upset over Trump's constant demonizing of the press, decided to take action, according to a call made in their opinion section. So on Thursday, Aug. 16 they put out a call to all editorial boards of the press, on both the conservative and liberal sides of the aisle, asking them to "join us today to address this fundamental threat in their own words." They wrote,
A central pillar of President Trump's politics is a sustained assault on the free press. Journalists are not classified as fellow Americans, but rather 'The enemy of the people.' This relentless assault on the free press has dangerous consequences. We asked editorial boards from around the country – liberal and conservative, large and small – to join us today to address this fundamental threat in their own words.
Trump has repeatedly attacked the news media, doing everything from calling reports he doesn't like "fake news" to tweeting memes about himself attacking news outlets to actively refusing to answer questions from reporters who represent outlets he doesn't like. The president's vitriol towards the press has been widely denounced, and now, it looks like the news outlets themselves are clapping back.
Over 350 newspapers, big and small, joined the effort, according to Reuters, and the Aug. 16 issue of newspapers across America contained op-eds on why journalists are not the enemy. While each article had a different writer and took a different approach the underlying message was the same in each and every piece: the free press is not "the enemy of the people."
There were so many poignant and important quotes strewn through those 350 article, but here are some of the best: