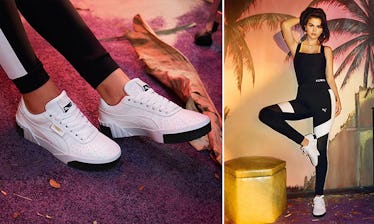 Count Your Blessings, Because Most Things On Puma's Site Are 30 Percent Off For Black Friday
Black Friday is upon us, which means it's almost Christmas, which basically means it's already 2019, and my New Year's resolution is the same as every year: to log more hours of exercise and get my body moving. It's good for you, it relieves stress — you know the benefits. But there's one thing that can really get me in the mood to crush my exercise goals: really cute workout clothes. Thankfully, the Puma Black Friday 2018 sale is good, I might just get an early start on my New Year's resolutions. Here's everything you can expect from the brand's best sales of the year.
Black Friday Deals
While most Black Friday deals start on, well, Black Friday, Puma's post-Thanksgiving sale actually starts the day before Thanksgiving — meaning today, Nov. 21. (I told you they were really good!). From now until Nov. 25, you'll receive 30 percent off on most items on Puma's website when you use the code PUMAFRIDAY at checkout. Since the sale spans over five days, Puma will also be running special daily deals on each day. Check the savings for each day and plan your weekend shopping based on the items you really want to get your hands on.
On Wednesday, Nov. 21, using the code DAILYDEAL1, you can take an extra 20 percent off accessories. On Nov. 22, all sale items will be an extra 10 percent off if you use the code DAILYDEAL2. On Nov. 23, stock up on items for the kids in your life, because you get an extra 20 percent off kids footwear and apparel with the code DAILYDEAL3. Come Nov. 24, the code DAILYDEAL4 will get you track suit separates for $10 off. And finally, on Nov. 25, the code DAILYDEAL5 will grant you access to an extra 20 percent off running sneakers and apparel.
Cyber Monday Deals
Just like everyone else, Puma is starting their Cyber Monday sale on Nov. 26, but unlike the others, theirs will extend all the way to Wednesday Nov. 28. (That's two extra days of savings!) You can expect to find most items marked down an entire 30 percent off. To get the deal, enter the code PUMAMONDAY at checkout.
You'll even get an additional 10 percent off of footwear (on top of the sale price) with the code CYBERSHOES. But duh, you can't not get clothes if you're gonna get shoes, right? Get an extra 15 percent off sale apparel with the code CYBERLOOKS. That's a total of up to 45 percent off some items!
As if that wasn't enough, there's a chance to save even more money when you visit official Puma outlet stores on Black Friday, Nov. 23, and Cyber Monday, Nov. 26. Head into a location near you — it'll be worth the trip — because the entire store will be marked down a whopping 40 percent. And if you really think about it, power walking around the store counts as exercise, too!
Mark your calendars and get ready to check a few things off your list.