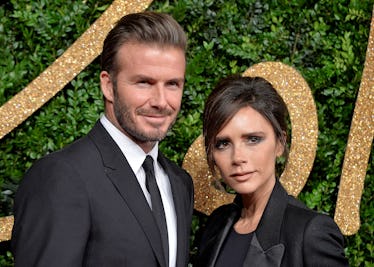 Victoria & David Beckham Went To A Fashion Show Together & The Photos Are Telling
Anthony Harvey/Getty Images Entertainment/Getty Images
For those who thought the U.K.'s hottest couple was on the rocks, think again. These photos of Victoria and David Beckham out together show them looking as strong as ever, and I'm so happy about it. Love you both.
On June 10, Victoria and David Beckham attended the Kent and Curwen's Men's event during London Fashion Week. The couple was spotted sitting alongside British Vogue's Editor-in-Chief Edward Enninful enjoying a casual, friendly chat. While this may look like a normal enough Sunday to some, these photos couldn't have come at a better time for the pair. On June 8, rumors started flying that Victoria and David Beckham were splitting after 19 years of marriage. I don't know about y'all, but those whispers just about had me in tears. However, David's rep quickly shut down those claims by releasing a statement to Mirror Online that day.
"There is no statement due or divorce," the rep said. "This is just fake social media news. This is all very bizarre and an embarrassing waste of time." Elite Daily reached out to David's team for comment at the time, but did not hear back.
A collective sigh of relief fills the room.
The thought of Victoria and David Beckham splitting up is almost laughable to me, but clearly no one is safe when it comes to relationship scrutiny. The rumors started when Twitter started speculating that David was having an affair with their daughter Harper's teacher. Then, as if that wasn't dramatic enough, users also claimed that the teacher was pregnant with David's child. Elite Daily reached out to David and Victoria's teams for comment on the cheating rumors at the time, but did not hear back.
This honestly sounds like an episode from the U.K.'s most suspenseful soap opera.
Personally, I love how blunt David's rep was while addressing the situation. After all, this isn't the first time the power couple has had to shut down divorce rumors. In February 2017, David and Victoria Beckham had to deal with talk that they were only together because of their multi-million dollar brand, but don't worry, because the former pro soccer player totally nipped those claims in the bud while speaking to BBC Radio that month.
He said,
Of course, you make mistakes over the years, and we all know marriage is difficult at times. It's about working through it. We know each other better than anybody. People have talked about, 'Do we stay together because it's a brand?' Of course not. We stay together because we love each other, because we have four amazing children.
Preach David. We might have seen the demise of iconic celebrity couples from John Cena and Nikki Bella to Channing Tatum and Jenna Dewan, but I'm so thankful that this U.K. couple seems to still be enjoying their happily ever after. Victoria and David Beckham said "I do" in July 1999, and have since raised four beautiful children together: Brooklyn (19), Romeo (15), Cruz (13), and Harper (6).
The Beckhams are truly a special family, and I seriously love when Victoria posts family photos on social media. On June 8, Victoria took to Instagram to share a sweet photo of her and Harper hugging, and included a heartfelt shoutout to David despite the divorce rumors.
Whatever's going on behind the scenes, I think it's safe to say that these two take couple goals to a whole other level.
So there you have it everyone, there's apparently no need to worry. It's time to go about our day, and celebrate that David and Victoria Beckham are looking as strong as ever. True love has never been so in style.