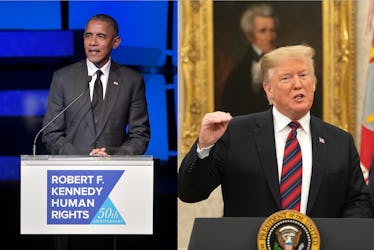 Photos Of Trump's Second State Of The Union Vs. Obama's Mark Some Change
Michael Loccisano/Getty Images Entertainment/Getty Images/Pool/Getty Images News/Getty Images
Can you believe that another year of President Donald Trump's presidency has gone by? Maybe you didn't think the country would make it to this point, but on Feb. 5, Trump delivered his second State of the Union address and these photos of Trump's 2019 State of the Union versus Obama's 2011 event show how much time has passed.
Leading up to Trump's second State of the Union, it was unclear if there was going to be one at all. His address comes following a month-long partial government shutdown over funding for his border security proposal — which included a border wall between the U.S. and Mexico. Trump was looking for over $5 billion in funding, but couldn't snag it with Democratic opposition to funding his wall. Trump's address had originally been scheduled for Jan. 29, but in light of the shutdown, Speaker of the House Nancy Pelosi wrote a letter to the president on Jan. 16 urging him to delay amidst security concerns brought by the shutdown.
She even went so far as to say that in lieu of giving a speech, the president could hand his State of the Union to Congress in writing on Jan. 29, which had been a practice of past presidents. Clearly, that didn't happen.
It's a marked difference from the way Obama's second State of the Union shook out, in a time of different crisis. Looking back to Jan. 25, 2011, Obama stepped up to the podium and gave his second State of the Union just weeks after the tragedy in Tuscon, Arizona where Rep. Gabby Giffords of Arizona was shot along with 18 others outside of a supermarket — and the shooting shaped much of Obama's 2011 address. Both the 2011 State of the Union and the 2019 State of the Union came at crucial and possible shaky moments of Obama and Trump's presidencies, albeit for very different reasons, so it's worth looking back at Obama's second State of the Union compared to Trump's.