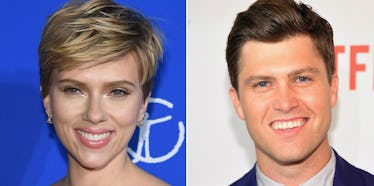 Scarlett Johansson & Colin Jost Walked Their First Red Carpet Together & There Are Pics
Jamie McCarthy/Michael Loccisano/Getty Images
The premiere for Avengers: Infinity War took place in L.A. on Monday, April 23, and reviews are in: the movie is a success. The Avengers: Infinity War red carpet gave us a lot of #blessings, like a glimpse of all of the actors together, but it also gave us ScarJost's first red carpet appearance together and I am swooning. Scarlett Johansson and Colin Jost have been low-key dating for a while now, and while they've appeared at some events together, they've never done a red carpet. So the photos of Scarlett Johansson and Colin Jost's first red carpet together are truly a gift.
The couple, who has reportedly been together since July of 2017, met when Johansson appeared on SNL and they hit it off at the show's afterparty. They've kept their romance pretty quiet over the last nine months, only making some low-key appearances together, but now they're clearly ready for the world to know about their relationship. They're red carpet official!
While on the red carpet of the Avengers: Infinity War premiere on Monday, April 23 (the movie comes out April 27), Johansson told Entertainment Tonight that she was "excited" to have Jost with her at the event. "It was alright," she teased. "It was not bad, you know — get some laughs in and enjoy it." She continued, "I'm just excited to share this experience with him because I'm so excited to see the film. I haven't seen it before!"
I'm just excited that we finally have red carpet photos of Scarlett Johansson and Colin Jost together. I mean, look at these two and their beaming faces!
They arrived to the Avengers premiere hand-in-hand, looking over-the-moon and so comfortable together.
Guys, this is truly a sight to behold.
Do you think Michael Che is going to roast Jost a bit for this on the next episode of SNL?
Not that ScarJost's relationship is anything to make fun of, rather, I just feel like roasting each other during Weekend Update is the bread and butter of Michael Che and Colin Jost's friendship.
UGH, these photos are bringing me so much joy.
*Squeals in giddy excitement*.
One more time for the folks in the back!
Squad set to stun. The last time Johansson and Jost made a public appearance together, according to ET, was at the American Museum of Natural History Gala on Nov. 30, 2017. Although they both attended the gala and posed for pictures inside the event, they didn't walk the red carpet together.
Here's Johansson on the American Museum of Natural History Gala on Nov. 30.
And here's Jost on the same red carpet.
The two were reportedly together the whole night at the 2017 gala, but they apparently weren't ready to make things red carpet official just yet. No, they were saving that for a more epic occasion.
And based on the photos from the premiere and the early reviews of the movie, I'd say the Avengers: Infinity War premiere was a pretty epic event. Just look at all of the stars in one place!
I'm going to throw up I'm so excited for this movie. Black Panther! Iron Man! On the same screen!
Thor! Star-Lord! SHURI. All on the same screen!
Let's also please take a moment to appreciate Scarlett Johansson's red carpet look because, I mean, girl. Slay.
The first (spoiler-free!) reviews of Avengers: Infinity War are very promising. Most critics are saying the movie is awesome, but definitely feels like more of a "part one" instead of a standalone film.
People are saying it produces similar feelings that Empire Strikes Back induces, so if you'll excuse me, I'm going to go cry in my pillow from now until the movie comes out on April 27. Thank you, Marvel, not only for this movie, but also for bringing these long-awaited photos of ScarJost into our lives.