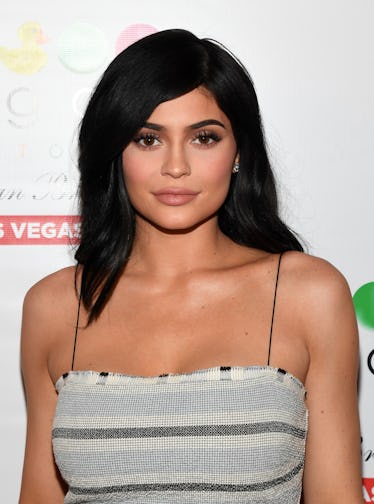 Kylie Jenner's Halloween Costume Is A Cute Shoutout To Travis Scott
Ethan Miller/Getty Images Entertainment/Getty Images
A lot of people have been anticipating the unveiling of Kylie Jenner's next Halloween look. And she just gave all her fans and followers a glimpse of what it is. These photos of Kylie Jenner's butterfly costume will definitely make you rethink what you've chosen to dress up as this year.
In an Instagram post published on Monday, Oct. 29, Jenner is wearing a light pink bodysuit with a pair of gigantic monarch butterfly wings. Like the bodysuit, the wings are pink, which is such a Kylie-esque color to wear. She's also sporting a pair of pink strappy heels with pink butterflies attached to them. So, Jenner is definitely going for a very delicate and serene look while also exuding a sense of purpose and power. Amazing!
Jenner captioned her photo with, "Butterfly Effect 💕," which is likely a reference to Travis Scott's song of the same name. A lot of fans have speculated that the song was inspired by Jenner herself, so she's basically paying tribute to her boyfriend with this costume!
The song was released in May 2017, so it was early on in Jenner and Scott's courtship. But eagle-eyed fans who were following the couple's every move seemed to make connections between the song and Jenner.
Ready to see Jenner's incredible butterfly costume? Check it out down below:
Little Stormi is also dressed up as a butterfly:
And Jenner is definitely feeling her wings in this video:
One of the reasons people think "Butterfly Effect" is about Jenner is because Scott basically said as much on Instagram. Not long after the song was released, Scott seemingly confirmed his relationship with Jenner in an Instagram post that was captioned with, "BUTTERFLY EFFECT 🦋🦋🦋🦋🦋"
Then, in June 2017, just two months after Jenner and Scott started their relationship, they got matching butterfly tattoos.
Just to give you an idea of what "Butterfly Effect" is all about and why people think it might be about Jenner, here are some of the lyrics to the song:
She caught the waves just thumbin' through my braids / Heatin' up, baby, I'm just heatin' up / Need ya love, not a need it is a must / Feelin' stuck, you know how to keep me up / Icy love, icy like a hockey puck
One look at those lyrics and it's clear that they could potentially be about Jenner and no one has actually denied that possibility. And when you consider all the butterfly references throughout their relationship (the butterfly tattoos, for example), then it definitely seems plausible that the song is inspired by Scott's love for Jenner.
Take a look at Scott and Jenner's matching butterfly tattoos:
All these butterfly references are actually kind of weird considering how much Jenner dislikes them. Back in September 2017, Jenner revealed on Life of Kylie that she's actually really scared of butterflies.
"Butterflies are just part of the secrets of Kylie," she explained. "It's kind of just ironic because I'm terrified, terrified of butterflies. All butterflies. This is how I think of them: cut the wings off and if you just look at their bodies, they're not that pretty. It's literally a bug."
It seems like Jenner has found a new kind of appreciation for butterflies. Maybe Scott has opened her eyes and made her view them in a new light.