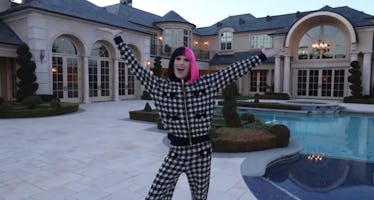 These Photos Of Jeffree Star's House Are Right Out Of A Fairy Tale
Courtesy of Jeffree Star on YouTube
Jeffree Star is proud of how far he's come over the years. The makeup mogul is not shy to share life milestones with his fans, and moving into his new home in 2020 was no exception. While fans were in love with Star's previous pink Barbie Dream House, these photos of Jeffree Star's house will have followers drooling over his gorgeous Hidden Hills estate.
Star purchased the nearly $15 million home in December 2019. During his January 2020 YouTube house tour, Star nearly teared up reflecting on all the hard work he's put into making his dreams, like the mansion, a reality.
"Now, I woke up this morning, and — can we get deep for a second? — I sobbed," Star said to the camera. "I cried happy tears this morning because it has been such a crazy journey getting here, and I think sometimes people only see the success or the rewards. But on a real level, six years ago I had $500 to my name."
He added: "I'm proud that I'm self-made. I'm proud that I've gotten this far on my own. And when I quit music, I literally had about $400-plus left. It was me, Diva, and Diamond in my apartment, and I had dreams of starting a makeup line."
Scroll down to check out 10 photos of Star's house that will leave you daydreaming of how you'd decorate the large space.