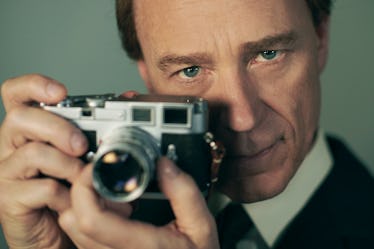 'The Crown' Finally Released Photos Of Helena Bonham Carter As Margaret & I'm Starstruck
Netflix
The Crown Season 3 has finally started filming after a lengthy delay for recasting the principal roles. The good news is the main leads are all in, except for Charles, and the first images from filming have started to arrive. Earlier this week it was Olivia Colman as the brand new version of Queen Elizabeth II. Her photo was exciting to see, as she will play the character for the next two years, and from the looks of it, she's perfect. Now it's time for Helena Bonham Carter as Margaret in The Crown to make her debut, and as expected she is stunning.
For those who were fans of Claire Foy and Vanessa Kirby in the roles of Elizabeth and Margaret, these images can feel like a little bit of a disappointment, as it's hard to see the characters change hands. (Those who are Doctor Who fans are very familiar with the cycle of grief and acceptance that comes along with it.)
But any speculation that The Crown is doing some sort of time jump that necessitates these recastings is wrong. The truth is, by the end of Season 2 Foy and Kirby had begun to look misleadingly young for their parts.
At the end of the Season 2 finale, it's supposed to be 1964. Elizabeth is supposed to be 38 years old, and Margaret only a few years younger.
Foy manages to look the part, but only just, and mostly via her body language. Most would think she is more like 33, while Kirby barely looks 30.
With both characters rounding into their 40s this season, it was time to recast. The results are fabulous.
An interesting note to this photo of Helena Bonham Carter looking spectacular in her winged eyeliner. The caption, when The Crown's official Twitter account posted this was "Hope."
By 1964, Margaret had two children. Her husband Tony had three. He philandered on her regularly as well, and their drinking and partying led to massive blowout fights. By the end of the 1970s, which the show will reach in Season 4, their marriage dissolved completely. This season will see her trying to hold things together in the wake of what was a terrible choice of husband. She is someone who lives in hope.
Ben Daniels is taking over from Matthew Goode in the role of Tony. The caption for his photo: "Hurt." Perhaps fans are supposed to feel sympathy for him and the impending divorce. I'd be more inclined to do that if he slept with fewer people.
These captions, by the way, put a new spin on the Colman-as-Elizabeth photo from the other day. Her caption? "Patience."
Most fans assumed the message was not about Elizabeth, but the wait for The Crown Season 3, which is not expected to arrive until 2019. But in light of the other two, it seems now that Elizabeth's life in her 40s is a woman who is living in patience. Considering she'll be queen for another 50 years and counting, let's hope she has infinite amounts.
The Crown Season 3 does not yet have a debut date, but fans are hoping for a return in the early part of 2019.