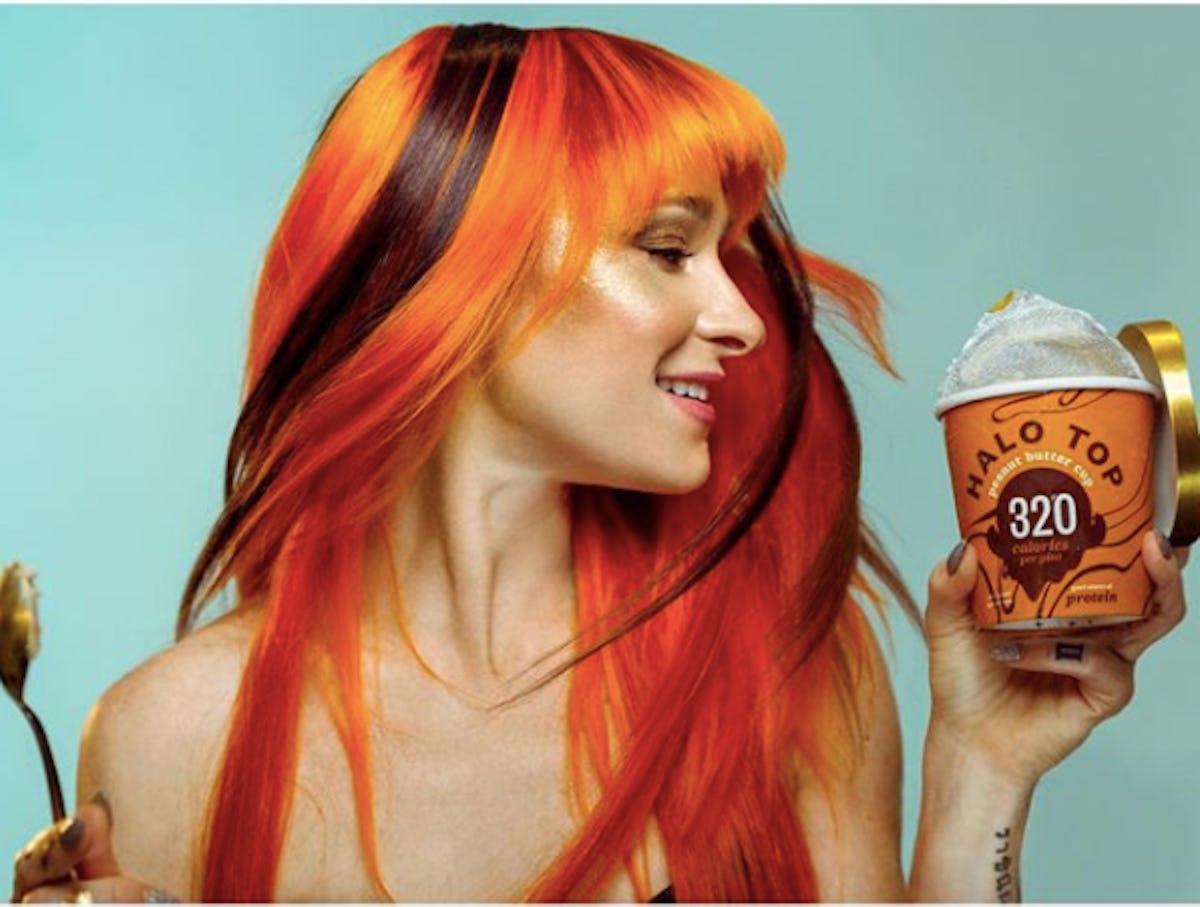 Hair Color Inspired By Halo Top Ice Cream Is Trending & It's Giving Me Brain Freeze
Halo Top Ice Cream was all the rage in 2017. In fact, last year Halo Top usurped frozen confectionary kings Ben and Jerry to become the number one best-selling pint of ice cream in the United States. Now, photos of Halo Top hair have surfaced because the beauty community (myself included) can never leave a thriving, innocent trend in peace.
As an artist, it's natural to find inspiration from the world we live in to feed and inform new art. For years, I self-applied makeup looks inspired by Disney characters, classical paintings, and more. The unconventional pairings of colors and patterns that occur in everyday objects and pop culture icons are the perfect basis for beauty experiments. They force us to try new, unexpected combinations and surprise us with the aesthetically pleasing outcomes. TBH I wasn't sure how to blend blue, green, and orange shadow together until I forced myself to do a Goofy-inspired look, and the result was much more than I could have hoped for.
IRL objects, symbols, and people serve as the most ground-breaking muses when you're facing a little artist's block, and that's exactly how Halo Top hair came about. Ice cream-inspired dye jobs and hair cuts? What's more delectable than that?
Scruples Hair Care, a boundary-pushing, salon-quality hair care brand, decided to use the 2017 top-selling ice cream brand as the catalyst for a new collaboration. To commemorate the start of 2018, Scruples Hair Care asked 10 stylists to create a Halo Top Creamery look honoring their favorite flavor and using their favorite Scruples products. The stylists exceeded expectations and the outcomes are good enough to eat. Seriously, just thinking about dying hair florescent Lemon Cake yellow is giving me a brain freeze.
The first two looks were created by @leysahairandmakeup, who chose Peanut Butter Cup as her ice cream inspo. The orange and rich chocolate brown hues already have my mouth watering. I wish I was joking. I'm really craving some Reese's RN.
The next look was created by Megan Schipani, who has the most amazing Instagram name (@shmeggsandbaconn). She designed this Lemon Cake dye job that gives me intense Lady Gaga circa "Telephone" vibes. Plus, the highlighted platinum band across gives the 'do out-of-this-world dimension.
Stylist @sydniiee gave us Black Cherry realness with this ombre violet waterfall. This look makes me want purple hair real bad.
If you're looking for a more natural glam, then dig this chocolate hue dyed by @mikaatbhc. It has swirls of brownie goodness at its finest.
Stylist Robin Del Toro really nailed this Rainbow Swirl confection. Is anyone else thinking about rainbow sherbet from childhood? Ah, what a simpler time.
This S'mores balayage by Ryan Weeden will make you want to pack up and move to Malibu ASAP.
This Birthday Cake hair is a party for your head. If you live in St. Louis, visit @kristinacheeseman because her rainbow dye jobs are festive AF.
No you haven't died (or dyed) and gone to heaven. You're just looking at Brit Wright's beautiful Cinnamon Roll hair.
I don't know what I love more: Red Velvet hair or red velvet ice cream. I would dye my hair this hue tomorrow if I could. Thanks for the inspo, @makeupbyfrances.
This last look is quite possibly the most wearable of them all. Salted Caramel dye jobs need to trend on their own, all thanks to Sadie Gray.
Are you hungry for a hair change now? Or are you just hungry for some Halo Top ice cream? Either way, if ice cream hair is how we're starting 2018, we're bound to have a highly palatable year.