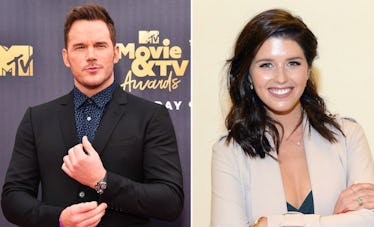 Chris Pratt Went To Katherine Schwarzenegger's Family Dinner, So They're Serious AF
ALBERTO E. RODRIGUEZ/GUSTAVO CABALLERO/GETTY IMAGES ENTERTAINMENT/GETTY IMAGES
Chris Pratt and Katherine Schwarzenegger are definitely still going strong, guys! The new couple was spotted on Sunday, August 5, at Schwarzenegger's family dinner. And that can only mean one thing: their relationship is getting pretty serious! A video of the family dinner was posted to Instagram by Schwarzenegger's actor brother, Patrick Schwarzenegger. Pratt and Schwarzenegger looked super happy and comfortable. And these photos of Chris Pratt at Katherine Schwarzenegger's family dinner will definitely make you smile (unless your still not over his divorce from Anna Faris, that is)!
In the photos, Pratt and Schwarzenegger are seated at a large dining table and enjoying a meal with the fam. They both can be seen laughing and being cozy with each other, which is really sweet. At one point, someone asks Pratt if he wants a second helping of whatever was served for dinner, but he declines. And then everyone bursts into laughter at something totally unrelated to Pratt and Schwarzenegger. All in all, it just seems like some wholesome family fun.
According to People, Pratt and Schwarzenegger were spotted leaving church earlier that same day. So, this was basically an after-church gathering for the whole family. Clearly, Pratt is getting really comfortable with the Schwarzeneggers and that's leading many to believe that his newfound romance is taking a serious turn.
Pratt's in the hat at the head of the table and Schwarzenegger's right next to him!
A source close to the couple recently told People magazine that Pratt and Schwarzenegger are spending all their time together. Schwarzenegger has even met Pratt's son Jack:
They are spending every day together and Katherine has met Jack several times. They seem to be getting more serious.
The couple reportedly started dating earlier this summer after Maria Shriver, Schwarzenegger's mother, set them up. The romance appears to have begun with a picnic date just after Father's Day back in June 2018.
Their union has really been heating up from there. I mean, now they're spending time with each other's families. And even Pratt's son has entered the picture as well. So, this seems like more than just dating. Good for them!
This is Pratt's first serious relationship since divorcing Anna Faris earlier this year. The couple, who were married for eight years total, separated in 2017.
In April 2018, Pratt said in an interview with Entertainment Weekly that "divorce sucks," but he was still optimistic about the single life:
But at the end of the day, we've got a great kid who's got two parents who love him very much. We're finding a way to navigate this while still remaining friends and still being kind to one another. It's not ideal, but yeah, I think both of us are actually probably doing better.
In response to Pratt's interview with ET, Faris revealed her own feelings about their divorce during a chat with SiriusXM Hits 1:
We have a great friendship. We really do. And we always have. And yeah, it's always tough to envision your future as one thing, but I think there's a lot of love.
So, it sounds like they've decided to put their son at the center of their friendship moving forward, which is lovely.
And while they're doing that, they've both moved on, it seems. Faris has been dating for a while. And now Pratt has found something special with Schwarzenegger.