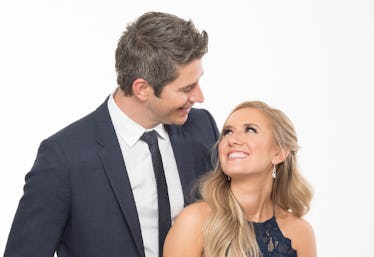 These Photos From Lauren B.'s Bridal Shower Will Give You Serious Bachelor Feels
ABC/Lorenzo Bevilaqua
After a Bachelorette season of men's questionable antics onscreen and off and a budding Bachelor in Paradise year, the Bachelor scandal of the decade now seems like it was forever ago. Arie Luyendyk dumping Final Rose pick Becca Kufrin for runner-up Lauren Burnham is definitely old news, but ready or not, their wedding day is fast approaching. Lauren celebrated her upcoming marriage with a bridal shower recently, and these photos from Lauren B.'s bridal shower will definitely make you excited for Arie and Lauren's big day.
Arie and Lauren aren't joining the sacred league of married Bachelor couples until Jan. 12, 2019, when they will marry in a private ceremony in Hawaii. It looks like Lauren took advantage of the summer weather to celebrate the milestone with her favorite ladies, taking to her Instagram Stories on Aug. 18 to share moments of her bridal shower with followers. Before the party began at Burnham's family's Virginia Beach home, she told her fans in a Story, "I got kicked out of my mom's house so she can set up for my bridal shower."
Mama Burnham's decision definitely paid off by the looks of the party's goodies. Lauren posted footage of ring and champagne-shaped cookies with the couple's names and wedding date printed on them, and despite the fact that there appears to be a fly on one of the cookies, you know things are happening when your name is on a baked good with someone else's.
Of course, no bridal shower is complete without a bride's friends, and Lauren shared the customary Boomerang shot of her with her guests celebrating that Lauren is getting "maui'd." Is that on the list of their approved wedding hashtags alongside some kind of racing pun?
Although we could probably expect some Bachelor ladies to be in Hawaii when Arie and Lauren tie the knot, only fellow Season 22 contestant Jacqueline Trumbull was at Lauren's bridal shower. The PhD candidate from New York also shared insight into Lauren's special day, posting a brief video of her opening gifts. BRB, I'm just busy admiring the pond in the background of the photo. Why marry in Hawaii when you presumably have that beautiful backyard at your service?
As we've all learned per social media in the past few months, Arie is never too far behind when Lauren is doing something related to their wedding. It looks like once the night progressed, Arie and other family members showed up, and the former Bachelor charmed Lauren's grandma on the dance floor. If there's anything that The Bachelor's group bowling date taught us, it's that old ladies really love Arie. Does Grammy have a bowling league Arie can visit someday?
With less than six months to go until their wedding day, Arie and Lauren have definitely ticked off all the boxes of pre-wedding musts. Their conversation with Becca may not have made the Bachelorette finale, but it looks like the pair is cool with not getting an invite to any Bachelor Nation reunions from this point on. After all, they're busy planning a destination wedding nowadays and probably telling each other, "I love that," when they contemplate floral arrangements. Enjoy the rest of your wedding preparations, Arie and Lauren!
Season 23 of The Bachelor premieres in January 2019.