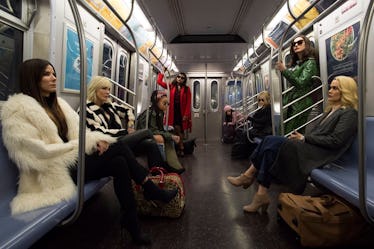 Here's How You & Your Girl Squad Can Transform Into The 'Ocean's 8' Cast This Halloween
Warner Brothers
The trick to doing a group costume set for a Halloween party is to get as many people to participate as you can. Foursomes are perfect to portray tightknit groups, but what if your squad has double that number? There aren't a lot of sets of women friends who can fit an eight-some, and still have everyone stand as their own character. That is until Ocean's 8 came out this year. These Ocean's 8 group costume ideas are perfect for a diverse group of girls to sashay into a party and slay.
The problem is, some of the serious looks from Ocean's 8 are from the Met Gala scenes, and those are dresses that, though everyone would love to wear one, budgets don't support, especially for a single evening. So unless you're willing to pull a Pose and rob a museum, chances are, you're going to have to aim slightly lower. Thankfully, Amazon has almost everything anyone would need to pull off all eight of the Ocean's 8 ladies and their looks.
That's not to say you have to dress down for all these outfits, Debbie Ocean wouldn't be herself without a fur coat. But there are ways to do it and not break the bank.