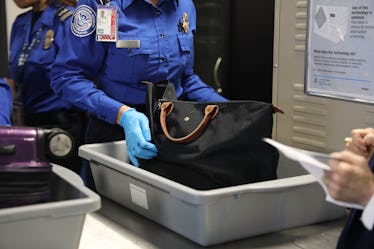 You Won't Have To Take Your Liquids Out Of Your Bag With These New TSA Scanners
Spencer Platt/Getty Images News/Getty Images
Everyone's least favorite part about traveling is due for a major revamp, and it's about time, TBH. Your days of barely making a flight due to an unexpectedly long Transportation Security Administration (TSA) line are numbered due to new technology that aims to make the whole process safer and more efficient. CT scanners for your bags may be coming to your airport as early as late July, and these new TSA 3-D scanners could save you a ton of time on your run to the gate.
According to press materials from American Airlines released on Monday, July 24, the company is already testing out an Analogic ConneCT scanner, aka a CT-type instrument that can examine your bag's contents in 3-D, at John F. Kennedy Airport in New York City. The computed tomography scanner is reportedly already in use at the Terminal 8 security checkpoint, and it's definitely a step above its 2-D X-ray predecessor.
Per the TSA, the 3-D CT system was first tested at Phoenix's Sky Harbor International and Boston's Logan airports last year before being approved and making its way to New York City, and the results are groundbreaking. Compared to the 2-D X-rays that are currently used by airport security, the Analogic ConneCT scanner will "allow the operator to rotate the bag's image 360 degrees to show the contents of carry-on items at every angle," per the press release. In addition to zooming in capabilities, operators can sift past passengers' items and look more closely for explosives or other dangerous items that the current security systems can't handle.
Because of these enhanced features, your days of waiting in long TSA lines while everyone chugs their water and pulls their gadgets out of their bags are coming to an end. That's right, passengers could soon be able to keep their liquids, gels, aerosols, and their laptops in their carry-on bags without compromising airport security once the new CT scanners are implemented, the TSA says.
Basically, it's great news for travelers everywhere, and you're going to want to celebrate by booking yourself a getaway and planning to spend plenty of time at that airport bar and restaurant you've always wanted to try without having to worry about missing your flight.
"We think in perhaps five years or so, the passengers won't have to take anything out of their carry-on bags," TSA Administrator David Pekoske told CBS in an interview. "What it's capable of doing is detecting a wider range of explosives, which is very important, [as well as] a much lower weight of explosives. They're just much better at detection, so you really get better security faster, essentially."
Forget a flight landing, this news definitely deserves a round of applause.
Currently, a few of these state-of-the-art CT scanners are being rolled out at JFK as well as Phoenix's Sky Harbor and Boston's Logan Airports, and international passengers will probably start seeing them soon during their trips abroad. London's Heathrow Airport, aka the biggest airport in the world, is also implementing the 3-D scanning machines, as well as Amsterdam's Schiphol and Singapore's Changi Airports, per Conde Nast Traveler.
While improved security procedures and shorter wait times sound like a win-win to me, other American airports might be a little slow to adopt the new systems due to cost. Per Conde Nast Traveler, one Analogic ConneCT scanner clocks in at $300,000 and approximately 2,000 would be needed to adequately serve all the security lanes. However, because these 3-D scanners can see explosives that the older machines could miss, I'm guessing that they'll be rolled out across the country as soon as possible, cost-prohibitive or not. According to The Verge, TSA plans to bring 15 of these scanners to airports by the end of 2018, so you could be bidding adieu to travel-sized liquid baggies sooner than expected.