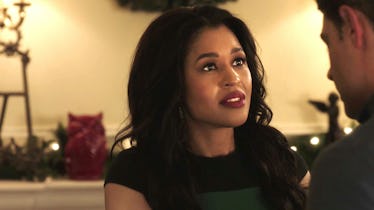 These New 2018 Christmas Movies To Watch On Hulu Will Bring You So Much Joy
Freeform
Whether Christmas movies are something you play while multitasking or sacred objects you save for viewing parties, it's a little tricky to break away from the classics and try something new. No matter how problematic they may seem, it doesn't feel right to skip The Holiday or Love Actually, but by the time those credits roll, don't you wish you spent that time watching a brand new holiday story? Streaming services have you covered for this mission, and these new 2018 Christmas movies to watch on Hulu are worth watching before the holiday magic has died away.
Although Hulu is also streaming seasonal faves like Serendipity and The Nightmare Before Christmas, it has a collection of made-for-TV holiday movies from recent years, including some from 2018. If something wasn't on Hallmark or Netflix, you may have missed out on its original run, so the picks below are from the last two years with one exception. They may not make you cry like Emma Thompson's "Both Sides Now" moment in Love Actually does, but sometimes all we need from a holiday movie is a sparkly tree and and a vaguely Christmas-esque theme.
Which of these will you stream while trimming the family tree?