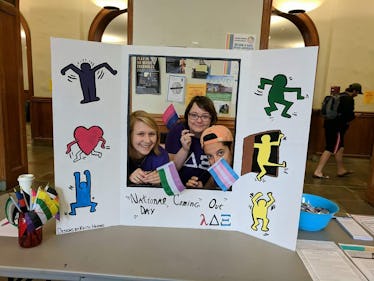 Meet The Modern Greek Organizations That Are Breaking Stereotypes & Making Change
Photo courtesy of Nykolai Blichar
If you've ever seen a young adult comedy or coming-of-age film, you might think you have college Greek life figured out. Movies like Neighbors and 22 Jump Street have certainly depicted the college experience, especially when it comes to fraternities and sororities, in a certain light: non-stop partying, naughty behavior, and class not so much a requirement but an option. However, the reality can be pretty different, and these modern Greek life organizations prove that.
While stereotypes surrounding Greek life have existed for decades, there are a number of sororities and fraternities dedicated to breaking these boundaries and setting themselves apart. Some organizations focus their energy on giving back to the community. Others pride themselves on providing a professional network for future alums in the outside world. Some are focused on building the community they want to see. There is a number of perks to joining these organizations, and not all of them center around partying and letting loose.
I felt like we were truly making a difference.
Social sororities and fraternities might be the most familiar Greek life organizations to students, but academic aka "professional" Greek life is also prevalent among college campuses. Take nursing sorority Tri-Gamma, which was established in 1946 and provides its members with a sense of camaraderie during the difficult four years of nursing school. Today, it helps the local community by focusing on issues including public health and social justice.
"It's nice to give back to the community, especially since San Francisco is a place where you have so much opportunity to do that," Danielle McFadyen, 23, who was involved in Tri-Gamma at the University of San Francisco until 2016, tells Elite Daily. "Tri-Gamma really put ourselves out there to get more involved in the community and I felt like we were truly making a difference."
The sorority organizes an annual fashion show to benefit a different charitable San Francisco organization each year, raising money for organizations like Women Against Rape, Carbs DM, and the Homeless Prenatal Program. During the 2018 event, the ladies of Tri-Gamma raised over $7,000 for Carbs DM, an organization which helps those affected by Type 1 diabetes. The fashion show is definitely the most time-consuming service act Tri-Gamma puts on, but they also do smaller kind acts, like helping out with local marathon races and passing out food to the hungry. In a city like San Francisco, community service opportunities are endless.
Some young girls don't have the same opportunities I had growing up, so it's nice to be a role model.
Raising money for nonprofits and charitable organizations, however, isn't the only way to give back. Founded in 1908 at Howard University, the historically Black sorority Alpha Kappa Alpha, also known as AKA, defines their mission as providing "service to all mankind." The sorority focuses on "five program targets," which include spotlighting historically Black colleges and universities (HBCU), promoting women's health care and wellness, helping community members build stronger economic foundations, and highlighting the community impact of the arts.
The sorority was formed in response to the lack of Black Greek life on college campuses, with the purpose of promoting higher education for African-American women dedicated to community service — a standard it's maintained since its creation. AKA is known for mentoring African-American high schoolers preparing for college by aiding them in researching different universities, getting them through the tedious application process, and working with them on SAT and ACT preparation. The sorority has also created a number of scholarships for high school seniors in order to increase access to higher education.
Allison Blankenship, 24, graduated from the Georgetown chapter of AKA in 2016. She, along with the rest of her chapter, took part in a number of family enrichment programs that included organizing a back to school supplies drive as well as a self-confidence workshop for young girls.
"For me, it's cool to be in a sorority where I get to be involved in community service activities and give back," Blankenship tells Elite Daily. "Some young girls don't have the same opportunities I had growing up, so it's nice to be a role model and show them that there are other opportunities and resources available to them in the outside world."
Blankenship can speak to the role the sorority plays in the community — especially since her mother, along with her godmother, cousins, and a number of family friends are all members. "Growing up, I was surrounded by AKA women," she says. "They weren't only professional, but they were doing great things in their own personal lives by really being involved in their communities. I had really positive role models growing up."
Sometimes even just the presence of Greek life organizations on campuses can give back to underrepresented communities. The stereotype associated with traditional Greek life tends to fall into a very specific category: white and straight. According to Marie Claire, as of 2014, the Southeastern Conference school University of Alabama, Tuscaloosa had nearly 9,000 students involved in Greek life, but since 1904, only one identified African-American woman had ever been offered a "bid" to join a sorority. When it comes to LGBTQ inclusion it's not great either. Of the 26 national sororities in the United States, as of 2016 only three of them openly welcomed transgender individuals, according to Cosmopolitan.
We still provide that sense of community for each other and family.
Kuztown University of Pennsylvania grad student Nykolai Blichar, 23, decided to start his own Greek life organization, but with a twist. In 2014, he created Lambda Delta Xi (LDX) as a "diaternity," meaning that it doesn't fall within the gendered sorority or fraternity label. Instead, the organization sets itself apart by inviting male, female, transgender and nonbinary students of all backgrounds and orientations to join. Blichar tells Elite Daily that he, along with a few others, decided to create LDX after hearing that some students didn't feel represented by other LGBTQ organizations on campus.
"There were a couple of us that had originally been a part of our LGBTQ group on campus, but many of us were finding that students were often coming to us and saying that they don't feel included in the Greek life on campus," Blichar says. "Greek life is very heteronormative."
Blichar made sure the organization focused on issues within the LGBTQ community, but wanted individuals of all different sexualities and backgrounds to feel welcome to join. Blichar believes that blending so many different voices into one "diaternity" is what sets LDX apart from other Greek life organizations. "We break the mold a little bit," Blichar says. "We're different. But we still provide that sense of community for each other and family."
Lambda Delta Xi focuses on issues impacting LGBTQ communities, such as mental and physical health. They organize an annual LGBTQ health week, which discusses topics ranging from alcoholism to positive sex education. In addition, LDX members worked together to create the first LGBTQ-focused living and learning center for incoming freshmen on Kuztown's campus. Members also raise money to benefit the non-profit organization The Trevor Project, which provides crisis intervention and suicide prevention for LGBTQ youth, by organizing an annual drag show on campus. While they're still a new organization, Blichar hopes to increase community service work over the next few years.
"What's great about our organization is that we tend to attract students who don't typically go to, say, an LGTBQ center on campus to seek out resources," Blichar says. "There's something to be said about the kind of environment and service that we're providing."
It really helped me progress and allowed me to relate to a community that no one else could.
For those who are interested in this kind of experience, the community provided by Greek life can be extremely important. McFadyen admitted that Greek life was definitely a factor while looking at colleges. In the end, she chose to go with a school with less of a Greek life presence, but she definitely doesn't regret it. While in Tri-Gamma, McFadyen made lasting connections with her fellow sisters, especially since her chapter only consisted of 20 girls.
"I think smaller was best for me personally," McFadyen says. "I formed so many connections throughout nursing school, and it really helped me progress and allowed me to relate to a community that no one else could. It had a really lasting impact on me."
In some sororities, the friendships don't last past the moment that graduation gowns come off, but in McFadyen's case, she still sees her sisters constantly. McFayden currently works at Stanford University's Lucille Packard Hospital, and the Tri-Gamma alumna often runs into one of her sorority sisters who works on the same floor as she does.
"When my [sorority sister] graduated, I really looked up to her and thought she [was] such a role model being at at Lucille Packard, that was a dream job," McFadyen recollects. "And now that I'm at Lucille Packard, I see her on the floor all the time. It's just cool how it came full circle. It really provided lasting connections and I've made some best friends."
For me, it's important to find a a group of people that look like you and have a shared experience.
Blankenship also says she feels the lasting effect that her sorority has on her life. She says when she runs across fellow AKA sisters on the street, they immediately feel like family. "When I meet women on the street that are also AKA we're instantly connected," Blankenship says. "I was in Cuba with my mom and we were wearing our AKA shirts when a lady on the street walked up to us and greeted us because she was also an AKA ... It's this instant bond and connection with other Black women that's indescribable."
Misconceptions about Greek life have existed for decades, but these organizations prove that barriers can be broken to erase these stereotypes and negativity surrounding them. Despite a history of their communities being pushed back from Greek life, both Blankenship and Blichar encourage students who are looking for a home away from home to join, or even create, these organizations.
"For me, it's important to find a a group of people that look like you and have a shared experience," Blankenship says. "It's so vital and important for your success in college because those people will be your rock."
Be patient.
For those looking to find or create organizations of their own, Blichar can speak to the difficult, but rewarding journey ahead.
"Be patient," Blichar says. "You definitely want as many people at the table with you as possible. I could have sat down and said 'I have all these ideas I know what I'm doing,' but I relied heavily on people from Greek life, allies to my community, and friends for opinions and ideas."
McFadyen urges potential members to look past the stereotypes associated with Greek life and understand that there are so many more options beyond the social organizations.
"I wouldn't judge it," McFadyen says. "I really enjoyed that it was more of an academic sorority. It helped me grow in my career."
College can be a scary four years, but Greek life offers so many benefits to students such as social outings, lasting friendships, and helping communities in the outside world. These particular organizations may never quite make the big screen, but they represent what it can be like going Greek today.
"It's important not to judge all Greek life based on the classic stereotypes because not all of them are like that at all," McFadyen says. "Not all of them are the same. Don't be shy, look into it."