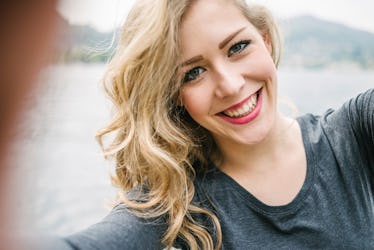 This Teen Says "Acne Doesn't Make You Ugly" & She Has The Fire Selfies To Prove It
Stocksy/GIC
Waking up with a blemish smack dab in the middle of your face seems like one of the worst ways to start a day, right? I'll admit that I do give acne more power than it deserves, and I'll let pimples that I cannot cover for the life of me put me in a bad mood for way too long. After seeing these makeup-free selfies with acne taken by Hailey Wait, you'll realize that, as Wait says, "acne doesn't make you ugly."
Wait is a 17-year-old from Colorado who has become a selfie expert. Wait also happens to have cystic acne, according to Teen Vogue. In an Instagram post on her page in December of 2017, Wait described what it is like to live with her condition when she said, "Cystic acne is painful, physically..." So, if you were thinking that Wait would take the time (and endure the pain) of covering her face with foundation and concealer to cover up her acne, you'd be wrong.
Wait has no interest in conforming to conventional "beauty standards." In that same post, she shared how she found happiness with a beauty routine that she created just for herself, and the key to getting there was ridding foundation from her routine. She also likely got there by sending out messages like, "Reminder that acne doesn't make you ugly...a heart full of hate does."
As an artist and musician, Wait's Instagram and Twitter pages are filled with creativity. One running theme throughout all of her content, though, is her foundation-free selfies.
While the makeup-free selfies are gorgeous depictions of Wait, she doesn't appear to have always been confident enough to post them. On Dec. 31, 2017, Wait posted two side-by-side images on her Twitter page, and she explained that the left one was her first selfie taken in 2017, and the photo on the right was her final selfie of 2017.
Do you notice a difference? Wait was covered up with foundation and makeup in the "first selfie of 2017" and by the end of the year, her bare-faced selfie was all that she needed. Seriously, she looks amazing (with or without the sunglasses and matte lip).
She expanded upon the freedom she felt when she stopped using a base of foundation:
Honestly, as soon as I cut foundation out of my makeup routine and stopped giving a damn what people thought of my appearance and once I started caring more about my overall happiness and well-being, it started to improve drastically.
The teenager is truly the embodiment of self-acceptance and self-confidence. She also posts hopeful side-by-side images for others who are similarly suffering with cystic acne. Seeing as she described it as "painful," it's a promising sign that treatment can help ease the severity of it.
While it's refreshing to see Wait's outlook on the world of "beauty standards," she's not only standing up and giving power back to those who have acne, she's also sharing positive messages with everyone when she says things like, "Whether you have acne or not, ur damn fine ok and you deserve love!!! Both can be beautiful."
It's clear that people appreciate what she has to offer because Twitter is definitely applauding Wait and her decision to smash "beauty standards."
Wait is the "definition of real beauty."
Oh, I definitely believe it.
She is helping others embrace their true selves.
"... helped me embrace me acnes."
Wait's confidence shines through in her posts.
She's inspired this individual to "embrace my skin because acne doesn't make us any less beautiful."
Living in a world where flawless (aka airbrushed) skin is a must to be considered "beautiful" is so restrictive. How inspiring is it that Wait bucks the traditional social media song-and-dance of "perfection" to show everyone her true beauty? I'll double tap to that.