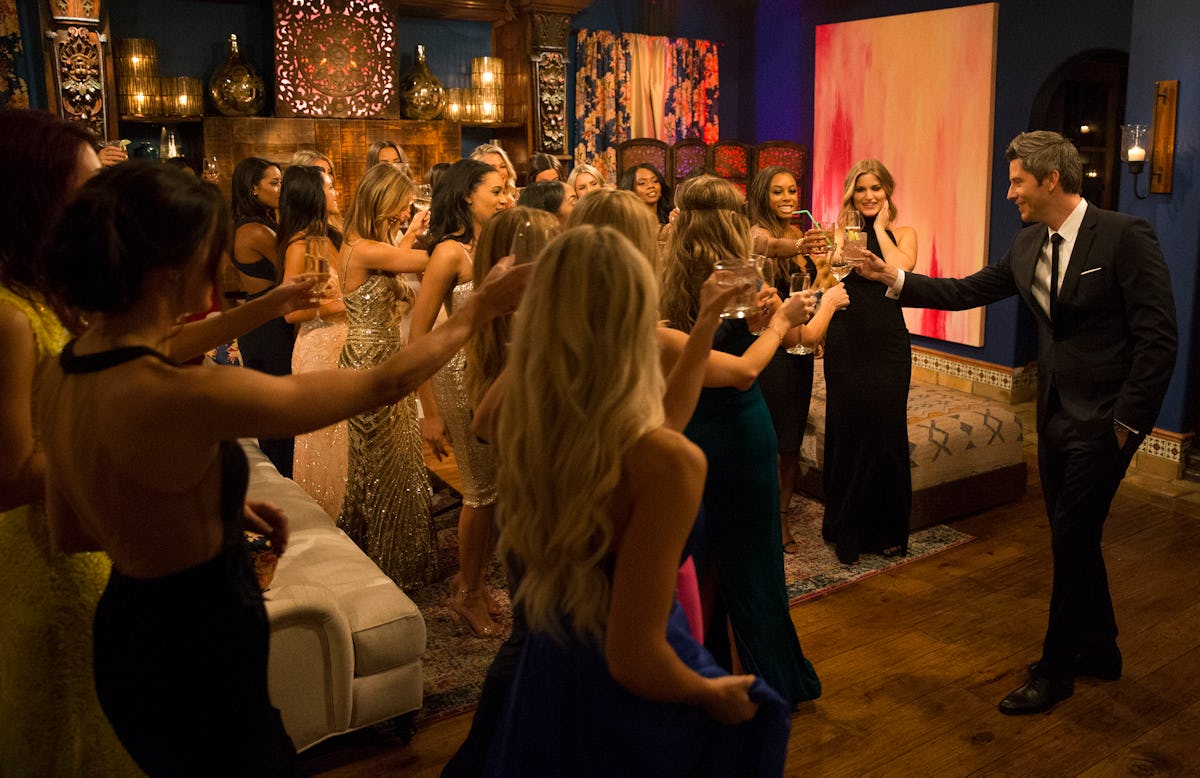 These Fun Facts About 'The Bachelor' Will Make You Love The Show Even More
ABC
The Bachelor has been on a whopping 22 seasons since it premiered in 2002. Back then George Bush was president, Nickelback had the number one single of the year, and Kylie Jenner was barely in kindergarten. What a long, strange trip its been. The reality TV juggernaut has spawned spin-offs, stars, and even some successful relationships thoughtout its storied history. If you need any more reason to be addicted to the drama that is this ridiculously entertaining show, these fun facts about The Bachelor should do the trick. TBH, we wouldn't be surprised to see Chris Harrison uttering, "ladies… this is the final rose tonight" at age 90, so you may as well learn something along the way.
One of the biggest questions Bachelor skeptics and non-viewers often ask is: Do couples really make it on the show? The numbers aren't exactly glowing when it comes to a success rate, but there have been a few romances that have stood the test of time. The Bachelorette has better odds than the original — six out of 13 couples are still together. TWO of the 21 Bachelor pairs are going strong.
But if you count spinoffs like Paradise, there are real reasons to believe in the "process." There have been eight Bachelor babies born over the years — most recently, BIP lovebirds-turned-hubby-and-wife Carly Wadell and Evan Bass welcomed a daughter on Feb. 15.
But before these contestants put a ring on it, they have to go through a lot in a short amount of time. We always wondered what it takes to be a contestant and it turns out the answer is... kind of a lot. According to reports by E! News, women will spend "between $1,800 to $8,000" to get decked out they stay. So. Many. Gowns. Apparently, the leading men and ladies get their own stylists. The Hollywood Reporter wrote that Bachelorette Emily Maynard received a $350,000 clothing budget. Wha?!
As for hair and makeup, the women get professional services the first few nights, but they usually do their own throughout the season until the finale.
What audiences don't see is that those cocktail parties/rose ceremonies are quite the doozy when it comes to filming. "That first night lasts until about 7 A.M., and then each one after that lasts until about 3 or 4," Sean Lowe has divulged. "I mentioned in a previous blog that the cocktail parties and rose ceremonies can go all night long, and yes, the ceremonies alone can last up to an hour," Ali Fedotowski shared. At least they're actually getting to know each other more than we think.
Ali also filled Bachelor Nation in on how the person handing out those roses remembers all those names. The former Bachelorette explained,
She (the producer) has flash cards with the pictures and names of every contestant. It is hard to remember everyone, even with the flash cards. It's all so overwhelming. How do you remember the names at the rose ceremony? Well, I doubt many people could remember at 25, so the Bachelor/ette goes into the rose ceremony room and says a few names at a time and then leaves to get the next few names.
In addition to spilling behind-the-scenes tricks of the reality TV trade, Ali has spoken about what really goes on when it comes to hooking up throughout the season. Remember when viewers buzzed about Kaitlyn Bristowe sleeping with Nick Viall before those designated Fantasy Suite dates? Well, that might be more common than you may think. Ali defended Kaitlyn's decision, saying, "It makes me SO angry that there is such a double standard in this world when it comes to men and women having sex. I can assure you that Kaitlyn is NOT the first person to have sex with someone on the show." She added, "Sure, Kaitlyn did it before the infamous fantasy suite, but does that really matter? I've heard Mike Fleiss (the creator of the show) say that one of the Bachelors had sex with something like 6 of his 25 women!!!"
When the contestants aren't making out, they're going on dates that usually include dinner. But Sean Lowe explained in his book that food is often just for show. The one-time Bachelor wrote in his books, "We ate in our rooms and then went out for dinner, where we would be given beautiful food arranged nicely on the plate. This was just for show. No one looks good eating, and microphones pick up all kinds of chomping."
But just because the food isn't necessarily for consumption, doesn't mean the show isn't authentic. You know what's very real, indeed? The Bachelor Mansion. Someone really lives there with their family. Looking for the Bachelor-inspired wedding venue of your dreams? The house is actually available to rent.
It may not be quantum physics, but we feel pretty good about staying informed about what goes on over at Bachelor-land. The more you know...