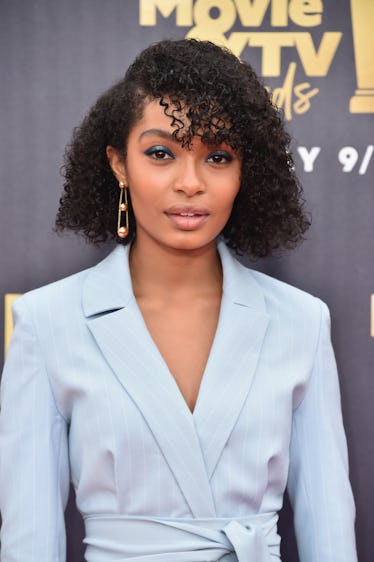 These Curly Hair Trends Are About To Blow Up For Fall, According To A Stylist
Alberto E. Rodriguez/Getty Images Entertainment/Getty Images
Girls with curls are blessed with endless volume, incredible texture, and countless ringlets — so why should they hide their natural texture? In short, they shouldn't! If you're lucky enough to sport curls, all you need is a new trend to try. So to be sure all you curly-haired babes are on trend and get to show off your texture, one hairstylist and curly-hair expert is sharing her predictions for the best fall 2018 curly hair trends. Ahead, Stylist At DevaCurl's DevaChan SOHO Salon Deanna Brown is breaking down the four looks you'll want to wear all PSL-season long. Scroll down for the inspiration you've been needing!
Issa Rae's Twisted Updo
Brown predicts one of the biggest curly hair trends for fall will be one worn by Issa Rae. I'm obsessed with Issa's hairstyles — she's constantly trying new kinds of braids and twists and is so good at incorporating accessories. But DevaCurl's stylist suggests this look is more than meets the eye — sure it's gorge, but it's even more versatile than it seems, and it can also hold up for a few days at a time.
"It's a versatile style perfect for fall and a spin on your traditional twist out," explains Brown. "Depending on the texture of your hair, this style can be worn up to two or three days. Then, when you unravel your twists, you can even wear your hair out and free."
If you're a beauty novice and wouldn't know where to begin creating this look on yourself, you can stop by the DevaChan salon and ask for the "Issa."
Cara Delevingne's Peek-A-Boo Braids
Although this style looks totally badass on Cara Delevingne, just imagine how cool it would look with your hair texture! I love that it can be worn on as a micro braid along your center or side part or as a barely there crown along your hairline — it really is totally up to you.
Brown describes it as "the ideal style for a client with a wavy curl who looking for something new, but without a ton of commitment. It's also an easy style for fall that can be easily transitioned from a day to night look."
Yara Shahidi's Accessorized Half-Up-Half-Down 'Do
A crowd favorite even among girls with straight hair, the half-up hairstyle is a trend that's here to stay. Wear it high, wear it low — you decide.
"Yara Shahidi is one of my favorite celebrities to look at for curly hairstyle inspiration," says Brown, and honestly, same! "This look here is a classic and doesn't require changing your style a whole lot. You can add gold accessories, which are a nice finish and can be easily incorporated into any style to catch some attention."
Tracee Ellis Ross' Mowhawk Buns
I actually really want to try this. It's edgy and cool, without being a huge commitment. All you do is twirl your hair into buns along the center of your head, down to the nape of your neck!
Brown makes a great point when she says, "It is important to be mindful that with longer curly hair, it rubs on our clothes, scarfs, and jackets in the warmer months. The hair at the nape of our necks ends up getting extremely dry and tangled." This style not only prevents that, but looks trendy at the same time. Score!