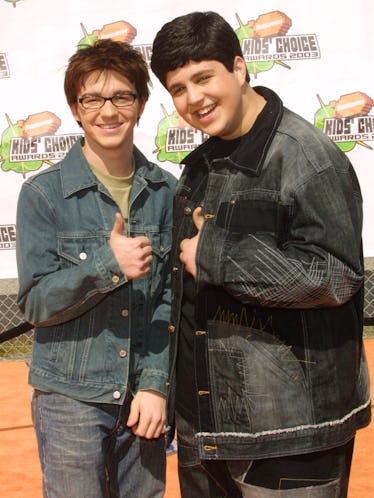 These Drake & Josh Interactions Over The Years Made Their Feud Even More Heartbreaking
Frederick M. Brown/Getty Images Entertainment/Getty Images
Celebrity relationships and friendships are a rare breed. These famous faces have their lives played out in front of the masses, whether it's the good, the bad, or the straight-up shady. In Elite Daily's new series, It's Complicated, we're highlighting the biggest celebrity "feuds" that took over Hollywood and dominated our Sunday brunches for weeks on end. We'll take a deep dive into the lives and social media feeds of our favorite stars and dissect what happened in front of the camera, what went down behind the scenes, and everything you might have missed in between.
Drake Bell and Josh Peck's Twitter drama in June 2017 broke the hearts of millennials everywhere. Learning that our generation's favorite pair of fictional step-siblings hadn't spoken in so long that Bell wasn't invited to Peck's wedding was a bit upsetting to say the least, but things are all good between the two now. Before Peck's wedding ignited Bell's heartbreaking tweets, however, Drake and Josh interactions over the years were largely positive. So, color millennials surprised when they learned that Drake and Josh were seemingly no longer sharing that brotherly love.
Drake Bell and Josh Peck starred on the iconic Nickelodeon shows The Amanda Show and Drake & Josh over the course of a decade. The show still has a huge fanbase, so Peck (who also became successful on Vine during its heyday #RIP) has been posting Drake & Josh memes for years. As for Bell, his Instagram is mostly dedicated to his music career, but there have been tweets/Instagram posts between the two over the years, and they even reunited on TV in 2016.
Most of the Drake Bell/Josh Peck social media interactions came in the form of Peck posting throwback photos from their Nickelodeon years.
He has posted... quite a lot of these.
Bell doesn't post a lot of throwbacks to the show on his Instagram, but he has posted some epic throwbacks in the last few months on Twitter.
Fans got the TV reunion of their dreams when Bell guest starred on Peck's FOX show, Grandfathered. (It has since been canceled. Another #RIP.)
Peck posted some amazing behind-the-scenes moments of him and Bell on the set of Grandfathered leading up to the episode's air date on Feb. 9, 2016.
He also tweeted at Bell about their time on set.
And just in case you were worried if the Drake & Josh reunion on Grandfathered was everything your Nickelodeon stan heart ever dreamed of, it was.
The two made a reference to an iconic gag from the show when Bell said on Grandfathered, "You know, you remind me of my stepbrother."
"Is he awesome?" Peck's character replied.
"No, no," Bell's character said. "He's in jail for stalking Oprah." They did that.
This reunion was in 2016, however, before Bell went on his Twitter rant in response to his lack of an invite to Peck's 2017 wedding. To sum up that drama really quickly, Bell was hurt that he wasn't invited to Peck's wedding to Paige O'Brien on June 17, 2017. In a series of since-deleted tweets posted just days after the wedding in June 2017, Bell said,
When you're not invited to the wedding the message is clear…. Loyalty is key… ALWAYS remember where you came from … True colors have come out today. Message is loud and clear. Ties are officially cut. I'll miss you brotha.
People at Peck's wedding were reportedly asking about the drama, and Peck was reportedly super upset about Bell's tweets. A source told Us Weekly at the time that Peck told wedding guests who were asking about the tweets that he and Bell hadn't spoken in three years, apart from some social media interactions here and there. That seems like a pretty legit reason not to invite someone to your wedding, to be honest.
The two hugged it out, though, like brothers do.
Both Bell and Peck posted the same photo of them hugging at the VMAs in 2017, signifying the end of their drama.
Peck included the reunion with Bell in his vlog of the 2017 VMAs.
And now, all seems to be great between the two!
In August 2018, news broke that Peck and his wife were expecting their first child together.
Bell posted a video with Peck on Instagram congratulating him and Paige on the happy news.
They joked about naming the baby Drake if it's a boy (but I doubt that'll really happen).
After their feud ended, all was well between the two again, and after Peck's baby news had been announced, Bell remade the show's opening sequence with new footage of him, Peck, and their former co-stars.
Hit me right in the childhood, why don't you!
It seems like these two hang out a lot more now post-wedding drama, so here's hoping us avid Drake & Josh fans will get to see more of these social media interactions in the future. But boys, please, no more feuds. I'm begging you. The world is divided enough as it is. Just hug me, brotha!!