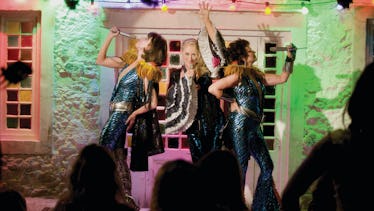 These DIY 'Mamma Mia' Costumes Will Transport You Straight To Kalokairi
Universal Pictures
Halloween is right around the corner, so here we go again with the yearly struggle of coming up with a unique costume idea. Luckily, this year's release of Mamma Mia! Here We Go Again has made overalls and bellbottomed pants cool again. Before the pressure to find a costume gets to you, you can always try out these DIY Mamma Mia costumes that are picture-perfect for a summer soiree on a Greek island (or, you know, your friend's Halloween house party).
If you're in college or a few years into your career, you may not have the budget to blow money on an elaborate, store-bought costume. Luckily, we're in the age of Pinterest and YouTube tutorials, so whether you want to be Donna or a Dynamo, the internet has got your back this Halloween season. Thanks to Mamma Mia! Here We Go Again bouncing back and forth between the past and the present, there are also even more ABBA-tastic options than usual for solo or group costumes.
We still have plenty of time before the leaves turn orange and the Halloween spirit has hit the air, but it's never too late to have your costume planned to a T. Queue up the Mamma Mia! soundtracks, pour yourself some ouzo, and embrace your crafty side, because you deserve to be the "Dancing Queen" of Halloween.