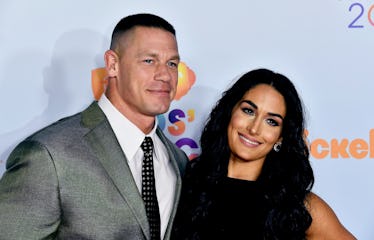 These Details About John Cena & Nikki Bella's Wedding Plans Will Break Your Heart All Over Again
Frazer Harrison/Getty Images Entertainment/Getty Images
John Cena and Nikki Bella are no longer together, but that doesn't erase the fact that they planned an entire wedding for themselves and then dropped it like a hot potato. What became of those wedding plans? How did they inform their guests? Better yet, what did those wedding plans entail? Well, I did a little digging and found out all the details about John Cena and Nikki Bella's wedding.
Let's break it down piece by piece:
The Date and Location
Cena and Bella were scheduled to tie the knot on May 5, 2018 in Mexico. Unfortunately, the couple split just weeks prior to the date. In a joint statement from April 15, 2018 and released by Us Weekly, the couple announced that they'd parted ways and asked for privacy:
While this decision was a difficult one, we continue to have a great deal of love and respect for one another. We ask that you respect our privacy during this time in our lives.
The Dress
For her dress, Bella went with a Marchesa gown that she was super happy with. When discussing gown choices with People back in April 2017, Bella explained that was relieved to be getting married now that she is over 30 because her style has changed drastically:
I'm kind of happy I'm getting married in my 30s, because in my 20s I would've had something obnoxious, princess-like Kate Middleton. I want lace I think. I want something very classy, like classic and sexy. Something classic, form-fitting. I do want a veil. Who am I without cleavage?
She even tried on some gowns on an episode of Total Bellas. Here's a peak at her shopping around:
The Maid of Honor
Bella elected her sister Brie Bella, also a professional wrestler, to be her maid of honor for her big day. She made the announcement in a YouTube video back in July 2017, while she was answering fan questions. Have a look at the video:
Bella also revealed that one of her cousins would also serve as a maid of honor.
The Bachelorette Party
For the Bachelorette Party, Bella decided to go all out and have a nine-day celebration in Paris. She, of course, took her sister along for the ride as well as some of her best friends.
Here's a snapshot of what went on during the trip:
Bella started off the Paris shenanigans by heading to the Paris Opera House, where she snapped this incredibly beautiful pic:
She also ran into some Paris street mimes:
And she basically just lived it up for nine days before returning to the States:
I have to be honest, this extended Bachelorette party looked like it was amazing.
But, as luxurious as all of that looked on social media, there were obviously some problems behind the scenes. Cena and Bella were reportedly at odds over whether they saw children in their future. While Bella definitely wanted kids, Cena wasn't so sure about it.
During an appearance on E!'s Total Divas back in 2014, Cena told Bella he didn't want kids at all:
I'm trying to be a realist. I've told you I don't want to get married and I don't want to have kids, and you do want to get married and you do want to have kids. I feel like there's a time bomb over my head.
Perhaps he was still having cold feet about the whole thing as the wedding got closer. Or maybe she wasn't sure she could commit to living without children.
Either way, it's just so, so sad! They seemed like such a solid couple, so it's really unfortunate that they couldn't work out their issues. Plus, they spent so much time and effort planning what was probably going to be a beautiful wedding.
All that said, though, Bella and Cena seem to genuinely care about each other, so hopefully they can remain friendly in the future!