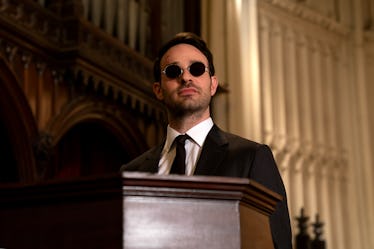 These 'Daredevil' Season 4 Theories Will Have You Aching For More Information
Netflix
The same day Daredevil Season 3 arrived on Netflix, Marvel TV announced a sad passing: Luke Cage Season 3 was canceled, following in the footsteps on Iron Fist, which had been spiked the week prior. But while fans mourn both shows, Daredevil seems healthy with the series turning in a far more consistent season than Marvel TV has done in some time. With the show in discussion to bring on another round, fans have started speculating. These Daredevil Season 4 theories suggest there are many directions the series could go from here.
It seems unlikely Daredevil will be canceled unless Marvel and Netflix really cannot come to an agreement on episode count. (This is the rumored reason Luke Cage was canned.) The show was the first of the Marvel series to land, with some of the best reviews, and it still has the best chemistry between the three mainstay characters of all the series. It's also the show which launched an additional spinoff series, The Punisher.
With all these benefits going for it, the question is how much of Daredevil Season 4 will be dedicated to shoring up the rest of the universe it helped launch. Here are some ideas for how the next season will go.