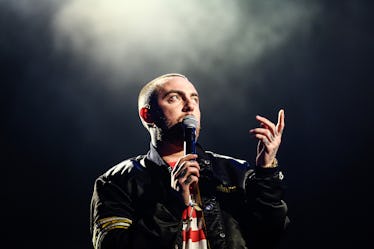 Celebrities Are Mourning Mac Miller's Sudden Death With Heartfelt Tributes
Rich Fury/Getty Images Entertainment/Getty Images
As the tragic news broke on Friday, Sept. 7 that rapper Mac Miller had died of an apparent drug overdose, fellow musicians and fans gathered on social media to pay their respects and reflect on their time with the "Self Care" hitmaker. Elite Daily reached out for comment on the report of his death and reported drug overdose, but did not hear back at the time of publication. Chance the Rapper, John Mayer, G-Eazy, and Solange were among the many who took to Twitter to pay homage to the late singer, and these celebrity reactions to Mac Miller's death show that the music world is reeling from the sudden loss.
TMZ first reported the news that the 26-year-old had been found at his San Fernando Valley home and pronounced dead on Friday afternoon, after which David Byrnes, Miller's lawyer, confirmed the sad tidings to The New York Times. Miller, who released his fifth full-length album, Swimming, just last month, had built a cult following with his deeply personal lyrics about substance abuse and depression, and the tributes pouring in showed how many lives he had touched with his music.
Fellow rapper Chance the Rapper took to Twitter to reflect on the pair's genuine friendship and how Miller helped him launch his career, calling the 26-year-old "one of the sweetest guys" he ever knew.
G-Eazy took to Instagram to pen a heartbreaking tribute to the late star, whom he referred to as "like a brother."
Alongside a black-and-white photo of him with the "Blue Side Park" singer, he wrote, "Completely devastated and heart broken I'm at a loss for words mac you were like a brother to me and were there for me in the hardest of times, especially this summer. I can't believe this is real."
He continued, "Please tell your friends and the people you care about you love them life is so f*cking fragile. You will be missed and your music will live on forever through the millions of people you touched."
Post Malone, Charlie Puth, Logic, and Lil Dicky reflected on how Mac Miller's music had changed their lives and inspired them as artists, while others paid tribute to their good memories with the star.
Others touched on the substance abuse that had allegedly taken his life. John Mayer, who worked alongside Miller on his latest album, wrote, "I'm so sad that you couldn't stay, Mac. I'm so terribly sad."
Macklemore reflected on "the same disease" that they shared, and encouraged others struggling with substance abuse to seek help in a heartfelt post.
"Such a genuine person. Brilliant sense of humor. A true artist. Your spirit is what impressed me the most," he wrote. "The energy you brought to any space you were in. Contagious. You reached out to me at times when others didn't. You were human. And we shared the same disease. A disease that is out to kill us, and when left untreated eventually will."
Reflecting on his own battle with addiction, the "Can't Hold Up" musician continued, "I'm shaken. Shaken that someone who had such a light can be taken from this world so easily. It could have been me too many times to count. On the surface people that appear to have it all, are not exempt from the gravity and cunning nature of this disease."
"If you're in the midst of addiction tell someone what's going on. Don't be a secret," he concluded. "Go to a 12 step meeting. Introduce yourself and you'll be greeted with love and understanding from people that are fighting the same battle. Surrender. There are many paths, but it's the only thing that has worked for me. I'm scared. Scared of how real this all is. Life and death."
It's still hard to believe that another young musician has been taken too soon, and the world is grieving the loss of a groundbreaking artist and great friend. Rest in peace, Mac Miller.
If you or someone you know is seeking help for substance use, call the SAMHSA National Helpline at 1-800-662-HELP(4357).