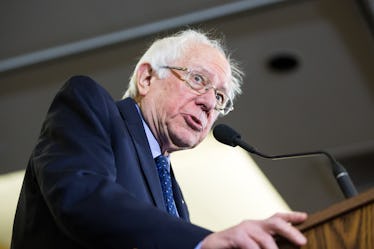 Bernie Sanders Has Quite A Theme When Talking About Donald Trump
Scott Eisen/Getty Images News/Getty Images
Bernie Sanders didn't get a chance to go head-to-head with President Donald Trump in 2016, but that could still change. In February 2019, Sanders announced he's taking another stab at running for president in hopes that everyone will feel the "bern" once more. If he manages to climb out of the crowded field of Democratic candidates (21 and climbing), he could go up against Trump, so it's worth taking a deep dive into these Bernie Sanders quotes about Donald Trump.
After Sanders announced his 2020 bid for president on Feb. 19, Trump told reporters in the Oval Office that he thinks Sanders "missed his time," but added that he still likes him, according to The Hill. He said,
Personally I think he missed his time. But I like Bernie because he is one person that, you know, on trade he sort of would agree on trade. I'm being very tough on trade, he was tough on trade.
The next day, however, Trump decided to lay his thoughts out about Sanders' bid on Twitter, using his go-to nickname for the presidential hopeful: "Crazy Bernie." In a Feb. 20 tweet, Trump wrote "Crazy Bernie has just entered the race. I wish him well!" The White House and representatives of Sanders did not respond to Elite Daily's request for comment on the nickname.
At least he wished him well? So there's a little insight into what Trump might think about his possible opponent. But what I really want to know is what Sanders thinks of Trump.