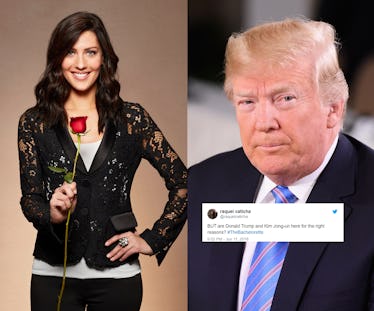 Twitter Exploded When 'The Bachelorette' Was Interrupted By Trump & The Tweets Are Perfect
ABC & Leon Neal/Getty Images News/Getty Images
It was just a typical Monday night dedicated to The Bachelorette. We were refilling our wine glasses and retweeting franchise alums' live reactions when, all of a sudden, reality crashed into our escapism. ABC cut to live footage of President Donald Trump meeting North Korean leader Kim Jong-Un at the Singapore summit, and these Bachelorette vs. Trump tweets actually made the interruption worth it.
Every now and then, we may see a Bachelorette episode pushed back a day because of sporting events, but I definitely can't think of a time when breaking news interrupted our weekly exposure to man drama and sparkly gowns. When it became clear that this wouldn't be a quick news update, Bachelor Nation continued live-tweeting, and although Trump crashing my viewing party wasn't totally appreciated, fans' responses to the update quickly turned hilarious online.
It isn't often that the world of The Bachelorette clashes with politics during an actual episode, but if this is how the fandom reacts, I almost wouldn't mind some low-stress world events happening during the show every now and then. If you don't believe me, just check out the creativity that fans got up to while waiting for the return of The Bachelorette.
While I learned tonight that I could never tire of reading punny Bachelorette jokes about politics, some fans couldn't embrace making light of the situation. We all feel a little guilty about turning to The Bachelorette for some levity, but many viewers just couldn't handle a reminder of the real world while immersed in The Bachelorette's candlelit, rose-scented universe.
I was just as upset about being tugged away from The Bachelorette as the next gal was, but catching sight of the historic handshake between the American and North Korean leaders during our reality TV guilty pleasure is a great story to tell my grandkids someday. They might as well know what our TV watching habits consisted of before we watched TV via a chip in our brains, right?
CNN reports that the men's handshake was followed by "one-on-one talks," so, yes, Trump and Kim are on their own one-on-one date today. They will later meet with advisers, who join the men after pre-summit discussions regarding North Korea's nuclear activity.
Meanwhile, I'm still not over this unexpected Trump-Bachelorette crossover. Host Chris Harrison stepped in to soothe worried fans when the update broke, and I've never appreciated him more. Who knew Chris could be so witty?
Instead of Chris coming onscreen to remind us there's one last rose, let's embrace America's Next Top Model's Tyra Mail and have "Chris Tweets" instead.
Other franchise alums were quick to share their two cents about Trump's meeting. I admittedly keep my social media follows of franchise stars to a minimum, but I can't resist some of their Bachelorette tweets. Such was the case tonight.
Although the breaking news initially seemed endless (we didn't really need to see the handshake twice, ABC), it eventually wrapped up, and the network returned us to our beloved Bachelorette. Plus, if you were lucky enough to miss the news the first time around, ABC immediately cut to more new footage of Trump and Kim Jong-Un's meeting once The Bachelorette ended. You know, in case you were too busy slamming down your wine glass in protest during the first break.
Hopefully the Singapore summit goes well, and the show won't have a reason for interruption next week. As we saw tonight, Bachelor Nation isn't exactly patient. The Bachelorette returns on Monday, June 18, at 8 p.m. ET on ABC.