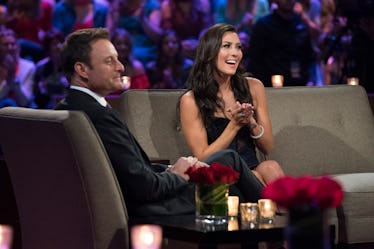 These Bloopers From Becca's Season Of 'The Bachelorette' Are Too Good
ABC
The Bachelorette's Men Tell All special is often just two hours of meaningless drama that fans were already totally over. If you think about it, the men are probably secretly over it too, seeing as the majority of them have already perfected their tans on Bachelor in Paradise by the time the episode is filmed. Everyone both onstage and watching from home finally gets to take a breather when Chris Harrison rolls out the season's blooper reel. These Bachelorette bloopers from Becca's season are actually pretty funny, and we could all use a laugh after watching Jordan dominate the stage for most of the night, right?
The Bachelorette's goofs usually involve a healthy dose of men falling and freaking out over bugs, and this year was no different. But in a tone that seemed to reflect how the men genuinely liked Becca Kufrin, Season 14's reel included plenty of moments with Becca alongside her men. Becca was witness to more than a few men suddenly falling down, dropping her, or crashing into overhead lamps or chandeliers. See, guys, The Bachelorette isn't as magical as it wants you to think.
Of course, Becca had her own blunders while filming, too. You can almost always count on a clip of the Bachelorette sneaking a bite of food in between scenes, and Becca seemed to love her clandestine burger as much as any of us would. Proving that she's seriously relatable, Becca declared, "Save the ranch!," when she dropped her dressing after having some food. Girl, same. I hope I can rock a ranch-stained sparkly gown someday as well as Becca did.
The bloopers instantly make a season seem more realistic and clunky, as real life in the dating pond should be. Fans on Twitter universally loved the bloopers (even though they're never as incredible as Chris Harrison promises, as one viewer pointed out), and honestly, I wouldn't mind if the Men Tell All becomes a full blooper special next year.
Fans also posted shoutouts to their favorite moments of the reel, including Clay and Leo having a manly moment together in the tub and, yes, Becca reminding us that ranch is a girl's best friend.
I've seen my fair share of men running into production equipment, but after years of just watching Bachelorettes briefly stumble over words or make a goofy face at the camera during the bloopers, fans are used to the leading lady coming across as quite together. Becca had her goofy faces and screams about bugs, but can we talk about how she got even more relatable when she walked in the wrong direction to talk to Jason's mom? TBH, I think a fair majority of us just felt perfectly represented on TV in that moment.
Compared to the Men Tell All, next week's finale episode likely won't have as many laughs or zany drama. After we find out who Becca becomes engaged to in the pre-taped finale episode, we'll see how things are currently going with her and her fiancé on the After the Final Rose special and catch up on how the runner-up is faring. We're due for quite an emotional range of content, and I'm sure after an hour or so, we'll wonder when Jordan comes back on screen for some entertainment.
Season 14 of The Bachelorette concludes on Monday, Aug. 6, at 8 p.m. ET on ABC.