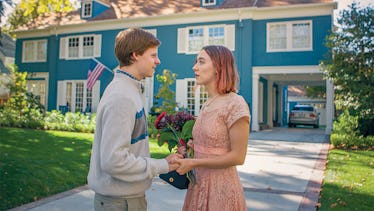 These Films That Are Up For Major Golden Globe Awards Just Got Leaked Online
A-24
Piracy is a fact of life in the 21st Century. This was the century that came in on a Napster wave, and where the most popular show on TV routinely wins the "Most Pirated Show" ever year without fail. (Congrats on the 2017 title, Game of Thrones!) This year, that piracy issue spread to movies, with Pirates of the Caribbean and Cars 3 held for ransom. Now, award season contender films have also been affected, with several Golden Globe nominees and Oscar contenders released onto the internet this week.
Starting the day before Christmas, a group calling itself Hive-CM8 began leaking what appear to be the screeners for several awards contenders, which are sent to those who vote on the Oscars. (Or perhaps they are the screeners sent to the Golden Globes. It's not clear.)
Prior to Christmas, this same group released the now-dropped film I Love You, Daddy, which was written, directed and starred Louis CK. At the time that at least made a small bit of sense, as the distributor had pulled the film from theaters due to alleged sexual assault claims made against CK. It wasn't going to be in theaters, and there was a market for the morbidly curious to see what they missed.
The first release in this batch was the comedy-drama starring Steve Carrell called Last Flag Flying. It arrived with the message:
We decided to make one before Christmas, not on Christmas we are the nice ones. In this spirit, Merry Christmas and stay tuned.
Stay tuned was right. While Last Flag Flying is kind of an awards longshot, which could maybe get a Supporting Actor nod, the ones that followed are ones with huge buzz:
I, Tonya: The Tonya Harding biopic starring Margot Robbie, which is already nominated for multiple Globes and SAGs and is expected to at least get a Best Picture and Best Actress nomination at this year's Oscars.
Lady Bird. The coming of age story starring Oscar nominee Saoirse Ronan and directed by Greta Gerwig. This film has the distinction of having a perfect Rotten Tomatoes score, an almost unheard of feat. Gerwig was passed over for a Golden Globe nomination, much to fan outrage.
Call Me By Your Name: A 1980s period piece in Italy about the coming of age story of two young men, directed by Luca Guadagnino. It is considered the final installment in Guadagnino's Desire trilogy, following his I Am Love (2009) and A Bigger Splash (2015). It stars Armie Hammer and Timothée Chalamet, both of whom are expected to get nominations for their performances.
Since the release of these three films, there have also been rumors that this group is also behind the leak of Three Billboards Outside Ebbing, Missouri, which is another awards hopeful.
Ironically, the message accompanying these releases urged those pirating to head to the theaters to see these movies on the big screen.
According to Deadline, the message reads:
Don´t forget watching a Screener is not like the real thing, you should still all go to the cinema and support the Producers. We are especially sharing this for the people who can't visit the cinema due to illness, or because it is a limited release that doesn't make it to their country. So those people also can experience some award nominated movies... Enjoy.
If history is any indication, this may not be the last of it either. Hive-CM8 claims to have an entire list of awards contenders, though they insist they won't release them all. They just want to collect them:
We are still missing Downsizing, Hostiles, and Phantom Thread. Anyone want to share them for the collection?
If Downsizing appears online by next week, I suppose we'll have proof that at least someone was into a Christmas exchange. Until then, Hollywood will be holding their breath that this is the last of the data dump.