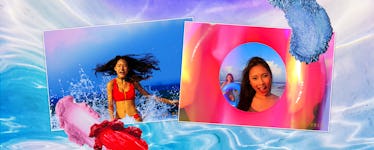 I Went Swimming In A Full Face Of Makeup To See If These Products Were *Actually* Waterproof
I live in Los Angeles, so there are two things guaranteed to happen every summer: 1) I'm going to sweat. I'm the type that can even get a little misty during the coldest months, so my makeup usually doesn't stand a chance in 100-degree weather. 2) A lot of my time will be spent in a pool. Whether it's me escaping the heat in the backyard or hanging out at a friend's pool party, once again, my makeup doesn't stand a chance with me diving into so much water. So, being the makeup lover that I am, I set out on a mission to find the best waterproof makeup on the market.
But then, I thought, what better way to really put waterproof makeup to the test than to go beyond seeing if it'll stand up to extreme heat and sweat — by applying a full face and literally taking a dip in pool? Here's exactly what happened when I went swimming in waterproof products, as well as which ones stood up to the challenge. See below for what the waterproof ~look~ looked like before, and read on for a break down of every product I used, whether it stood up to the water, and a final peek at how the look turned out post-swim.
Here's what I looked like before taking a dip:
Primer
The first product I reach for is a primer, and though it's technically not waterproof, I have a reason for using it. Tatcha's The Silk Canvas Protective Primer ($52, tatcha.com) has a Japanese wax called bintsuke built right into it. If you are planning on doing your fair share of sweating or swimming this summer, anything with wax will be a godsend for you. Think of it this way: If you spill water on a sheet of regular paper, the paper will absorb the water, and the ink on your page will wash away. If you spill water on a sheet of wax paper, the water will sit on the surface and bead off. Water can't penetrate wax, and that rule applies to makeup, too.
Foundation
The newest waterproof foundation on the block quickly became my favorite. The Smashbox Studio Skin Full Coverage 24 Hour Foundation ($36, sephora.com) is aptly named. The coverage is so good, I skipped concealer altogether — it even covered all traces of my dark circles.
The best part was, not even a long swim ruined the look of my complexion. My coverage stayed full and even.
Bronzer
Not even a day at the pool will break me and my contour up. Luckily Huda Beauty's Tantour ($30, shophudabeauty.com) formula is waterproof and sweat resistant. After an hour of swimming laps, doing cannon bombs, and holding my breath underwater, I can confirm pool water is no match for this bronzer.
Brows
I've always known Benefit Cosmetics' Ka-Brow Eyebrow Gel Color ($24; benefitcosmetics.com) is waterproof, and though it's held up to the sweatiest summer days, I had never put it to a swimming test. After an hour of pretending to be a mermaid, my brows still looked as fresh as the moment I applied them, apart from the water moving my brow hairs around just a little.
Eyeshadow
If you plan on swimming or sweating in your makeup, I recommend opting for super pigmented, long-wearing cream products. Powdered products will be the first to run and crease when they get wet. Knowing this, when it came to my eye makeup, I skipped the powder shadows and applied a matte cream eyeliner with a fluffy eyeshadow brush. The color payoff of the Dose Of Colors Cream Eyeliner ($19, doseofcolors.com) is truly unbeatable. And it didn't budge a bit, no matter how many underwater handstands I attempted.
Eyeliner
Usually, my cat eye is the first to go when I dive into a pool, so when this waterproof liquid eyeliner landed on my desk, I couldn't wait to put it to the test. The Urban Decay Perversion Waterproof Fine-Point Eye Pen ($22, urbandecay.com) went on smooth and gave me the darkest, inkiest cat eye a girl could ask for. There's no way it could've stay crisp and dark underwater, right? Wrong! Granted, I was very careful not to rub my eyes (if I had, I predict there might have been a little smudging), but I was pleasantly surprised at how the product did not smudge or fade a bit.
Mascara
I'm a fan of Milk Makeup's Kush High Volume Mascara ($24, milkmakeup.com), so choosing to go swimming with the waterproof version was a no brainer. Again, I made sure not to rub my eyes, but I still experienced a bit of flaking with the Milk Makeup Kush Waterproof Mascara ($24, milkmakeup.com), with a few mascara particles falling and collecting under my eyes. On the other hand, I got the lengthening I love from the original, without the full-on raccoon eyes.
Lipstick
I remember when the Huda Beauty Power Bullet Matte Lipsticks ($25, shophudabeauty.com) first launched, Huda shared a video of her holding an armful of swatches under running water. They didn't move in the slightest, so when it came time for me to create a waterproof makeup look, I reached for that same lipstick. And you know what? It didn't disappoint. My lipstick appeared just as pigmented as before I went swimming, no fading or feathering in sight.
Setting Spray
No makeup look is complete without a setting spray, and the Huda Beauty Resting Boss Face Setting Spray ($33, shophudabeauty.com) has been a go-to for me all summer long. Even on the most sweltering days, without waterproof makeup, it keeps my entire makeup look intact. And as expected, it seems not even an entire pool of water was a match for this mist.
Don't believe me that some of these waterproof products actually lived up to their name after a swimming sesh? See below for what my beat looked like after the swim, as well as a closeup:
After an hour of swimming — and not just swimming, but jumping off the diving board, doing underwater flips, and floating in the water — my makeup looked almost as good as my before photo. Finally, I can attend pool parties with a full face of makeup and not have to worry about streaks of foundation running down my cheeks. Consider your melt-proof makeup routine found.