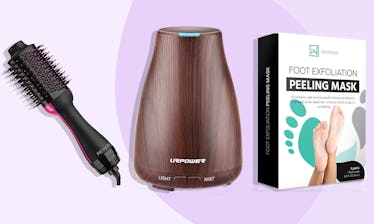 These Are Amazon's 52 Bestselling Gifts & They All Have Thousands Of 5-Star Reviews
My secret to picking out the perfect gift is simple: I place my trust in Amazon's reviewer community, choosing treats like these 52 bestselling gifts that all have thousands of reviews. After all, when you take the time to not only consult the rating your choice has been given, but also to delve a little deeper and read a few of the comments, it's almost like doing the research yourself. And, as a bonus, sometimes you'll get a fascinating tribute to your chosen product into the bargain.
Take this acupressure mat set that is one of the most talked-about products on Amazon: Just a glance through the subject lines of the reviews is enough to set it apart. "Clearly evil but extremely effective," says reviewer Rachel B. The secret to this set, which has the charming colloquial nickname "bed of nails," is that many of its nearly 2,600 reviews come from sufferers of chronic pain. If it works for the fibromyalgia community, you can bet it'll work for your friend or family member who carries their stress in their shoulders.
Or there's this uniquely-constructed travel pillow, of which reviewer Traveled begins his rundown by asking "Do you have a few hours? Because I need to tell you about this neck pillow thing my wife just got me." Traveled is one of nearly 12,000 reviewers who've given this device a solid 4-star rating, and he goes on to compare it to "the brazier of Athena" — whatever that means — and notes that "My neck has said 'sayonara' to floundering with fettucini and "hello" to raging with the rigatoni." If Traveled can get that worked up about not being noodle-necked, to say nothing of tens of thousands of other reviewers, you can rest assured that your road warrior BFF will love it, too.
When your friends and family turn to you, beaming, and ask how you found this perfect gift for them, you can just tell them you heard about it from a friend — because you did. You found it thanks to the Amazon reviewer community — a gift-giver's best friend.