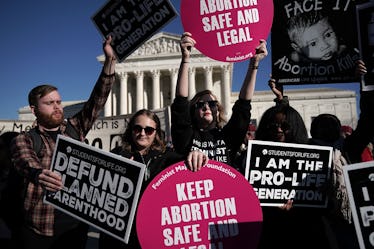 These States All Have Some Major (& Scary) Abortion Restrictions In The Works
Alex Wong/Getty Images News/Getty Images
The fight for reproductive rights is becoming one of the most heated debates among the public in the United States. While pro-choice advocates are fighting against new measures attempting to limit abortion rights, these seven states' abortion bills could prove to be some huge obstacles. Want to know more? Here's a rundown.
According to a March 2019 report from reproductive health group Planned Parenthood, over 250 bills restricting abortion have been filed by state legislatures among 41 states from 2018 to the first quarter of 2019, and more are being introduced every day. These measures vary in their restrictions. Although the right to an abortion is guaranteed at the federal level, states still have the right to regulate access — and in some states, the regulations being introduced are so strict that they would make abortion de facto inaccessible.
The 1973 Supreme Court decision Roe v. Wade deemed abortion a constitutional right accessible to all Americans. However, states are allowed to implement their own regulations on abortion access, provided it doesn't cause an unconstitutional "undue burden." Unfortunately, what counts as "undue" isn't always clear. Reproductive rights have been contested throughout history, but certain measures have gained significant traction in the country since President Donald Trump took office in January 2017, including what are known as targeted regulation of abortion provider laws (TRAP laws), which often impose costly regulations on abortion clinics and providers in an effort to shut clinics down, or regulations that make access to abortion impossible to access in practice.
The Trump administration has openly talked about their support in restricting reproductive rights for individuals, particularly abortion access. During the 2019 State of the Union on Feb. 5, President Trump called to restrict abortion by prohibiting people from receiving abortions later in pregnancy. He said,
To defend the dignity of every person, I am asking the Congress to pass legislation to prohibit the late-term abortion of children who can feel pain in the mother's womb. Let us work together to build a culture that cherishes innocent life.
So, what states are introducing measures to limit abortion rights? Here's a list of some of the major ones you should know about.